Why Savannah, Georgia and the Perry Lane Hotel Should Be Your Next Southern Coastal Destination
Our recent trip to Savannah
It had been several years since our last visit to Savannah. We always enjoyed our times there in the past, but we gravitated to Charleston for its Lowcountry-inspired cuisine, seeing our chef, sommelier and hotel friends, and exploring the beautiful architecture in the Historic District.
The BB&T Charleston Wine & Food Festival became an annual pilgrimage for a number of years. We won a cooking contest sponsored by the CW&FF and our Lambs & Clams friends, and were invited to participate as a judge and attend the Ultimate Critic's Dinner in conjunction with the festival in 2012. We even rented an apartment in a renovated home in the historic district for a month and considered moving there. We had a love for and a connection to Charleston.
We recently had the opportunity to revisit Savannah for a family and friends meet-up and get reacquainted with The Hostess City of the South. It stood in stark contrast to Charleston. Over the years, Charleston has become the focus of much international attention being ranked the Number 1 U.S. city for eight years running by Condé Nast and for six years by Travel + Leisure magazine. It became a port of call for cruise lines like Crystal and Carnival. With all of that attention, the once quieter and quaint Southern town has exponentially grown in size and popularity.
When the opportunity to travel to Savannah presented itself, we were delighted, especially when we made arrangements to stay at the recently opened Perry Lane Hotel and could bring our Tibetan Terrier pup, Rhythm. We were looking forward to revisiting this city along the Savannah River to see what was new. What we discovered was much of the charm that brought us to Charleston years ago is still alive and thriving in Savannah.
Savannah
Savannah's Historic District, one of the largest in the U.S., is beautiful and the city's 22 squares and parks are at the heart of the town. These manicured green spaces are home to magnificent Live Oak trees draped in Spanish moss, historical monuments, and fountains. The largest park is 30-acre Forsyth Park. The park's iconic fountain dates back to 1858 and is one of Savannah's most recognizable landmarks.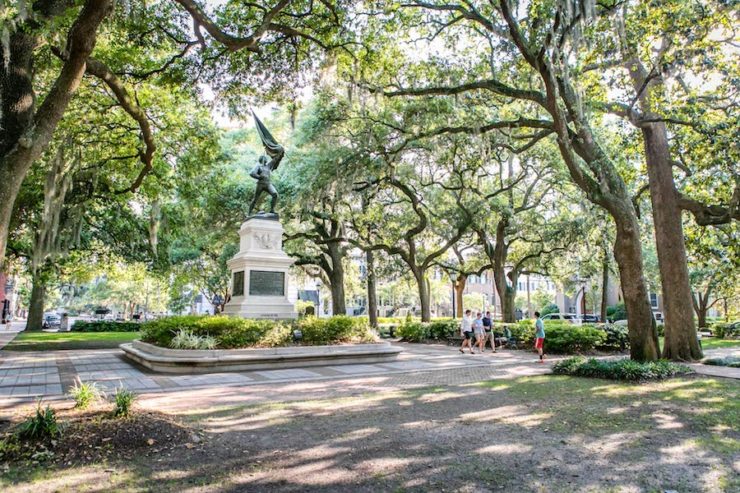 The city's architecture is significant with stunning homes, churches, museums, and inns featuring examples of Victorian Regency, Federal, Italianate, and Greek and Gothic Revival periods. Also notable is the ornamental ironwork found throughout Savannah in its balconies, fences, gates, doors, columns, and even waterspouts.
The lively waterfront area, River Street, runs along the Savannah River. It's a bit touristy but worth a stop to explore the souvenir shops and art galleries or have a drink in the pubs along the way. Perhaps take a cruise on the Savannah River Queen to enjoy views looking back at the city from the water. If you're up for more shopping and a bite to eat after River Street, head over to City Market, a block-long retail and dining complex at the corner of Jefferson and West St. Julian Streets.
If it's your first visit to Savannah, consider booking one or more tours while in town to get your bearings and learn the history of the city. Local excursions offered include spooky ghost adventures or historic city tours either on foot or by trolley. We also suggest visiting Bonaventure Cemetery, either on your own or with a guide. This eerily beautiful cemetery is a must-see when in town.
Bonaventure Cemetery is listed as one of the most beautiful cemeteries in the world. The cemetery sits atop a bluff overlooking the Wilmington River. It's featured in the book Midnight in the Garden of Good and Evil by John Berendt and the movie of the same name. Almost every gravestone or monument is photo- and Instagram-worthy, surrounded by ancient oak trees and draped in Spanish moss, so bring your camera and iPhone.
If you'd like a day on the beach and an escape from the city, head over to Tybee Island, just 20 minutes from Savannah. Adventure seekers can plan a kayak trip to Little Tybee Island, which is reachable only by water. This uninhabited barrier island is known for its Atlantic bottlenose dolphin sightings and migratory birds such as egrets and herons.
Perry Lane Hotel, A Luxury Collection Hotel
One of the best surprises of our visit to the city was this lovely new boutique property, Perry Lane Hotel. Conveniently located in Savannah's Historic District, the hotel is close to Forsyth Park, Broughton Street's shops and restaurants, and the Savannah College of Art & Design. The exterior of the hotel's two buildings, located across the street from each other, seamlessly blend into the surrounding architecture, while the interior of the hotel presents a fresh and modern design with a residential feel.
Accommodations
Each of the 167 rooms and suites are individually curated with artwork, eclectic furniture, vintage pieces, and unique design elements, so no two spaces are alike. The rooms also feature large bright windows, richly textured fabrics, Frette Italian bed linens, spacious marble bathrooms, and the latest in modern technology. The slate- and darker blue-hued walls are striking. Don't leave behind Byrd's Famous Cookies that are refreshed in the room each day. These aren't just any cookie. They're locally made gourmet buttery chocolate chip morsels that are addictive.
Food and Beverages
There are three dining and beverage concepts at the property. The Emporium Kitchen & Wine Bar boasts locally sourced specialties and beverages in a stylish bistro-style atmosphere and serves breakfast, lunch, and dinner every day. We had breakfast and dinner at the restaurant and found the food to be fresh and inspired. The restaurant offers a unique wine concept with its attached retail wine store that allows you to bring the wine to your dinner table.
The Wayward bar offers an unexpected casual vibe. It's popular with locals as well as hotel guests and is open in the evenings. Stop by at 5 pm for a hand-crafted cocktail making demonstration and a drink on the house, known as Papa's Gift. Afterward, head to the rooftop bar, Peregrin, for spectacular skyline views of Savannah at sunset.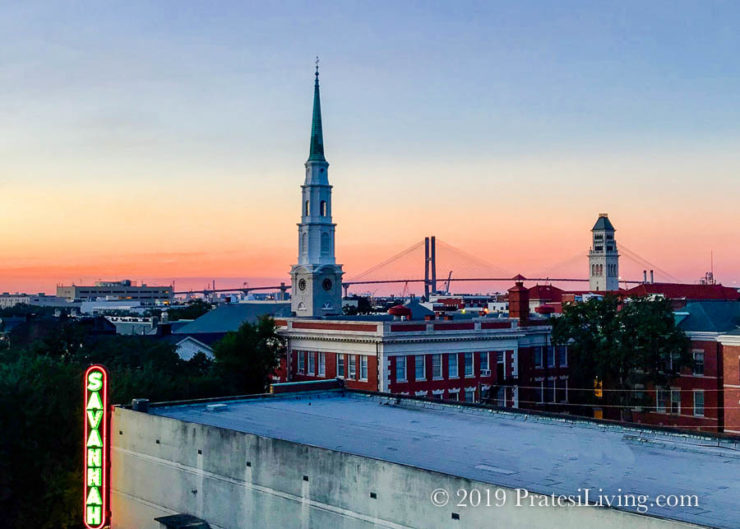 This impressive venue is open from midday into the late evenings year-round. Try your hand at lawn games or take a dip in the pool during the warmer months. Toasty fires crackle and keep you warm on cooler evenings in the winter after the sun goes down.
The Rest of the Story
Be sure to visit the shared spaces in the hotel. The library, which is adjacent to the lobby, is a relaxing and beautifully lit room where you can sip a glass of wine or read a book. Take note of the bookcases with all the vintage knickknacks both on display on the shelves and in the drawers. They have a unique collection of pieces to remind us of the city's and the South's storied past.
The property is pet-friendly, so Rhythm enjoyed his stay at Perry Lane Hotel as much as we did. The welcome amenities they left for him in the room were quite nice – a large comfy bed, two bowls, and Woofgang Bakery treats (which he woofed down!). It was his first time in a hotel and he behaved very well at 7 months old.
We found their staff to be very gracious and welcoming, beginning with a glass of champagne to greet us and a warm welcome to Rhythm. It felt like a breath of fresh air and a new spin on old-fashioned Southern hospitality.
Perry Lane Hotel has special musical events throughout the year and can create bespoke experiences for their guests, so consider a getaway to Savannah when celebrating a special occasion or anniversary. Also, the glass-enclosed Ballroom at the top of the hotel would be a spectacular venue for a destination wedding.
Plan Your Visit Now
Perry Lane Hotel was named to Travel + Leisure magazine's IT list for 2019, so plan your trip soon. The city is one of the hottest destinations in the south with new hotel openings, more chef-driven restaurants on the horizon, and cruise lines like American Cruises calling on the port city.
We appreciate the smaller feel of Savannah and its Antebellum charm but know it will change as more people visit, more travel outlets discover it, and the city continues to grow.
Click on the link for reservations and information on Perry Lane Hotel, A Luxury Collection Hotel.
For additional information on Savannah, please refer to their website at Visit Savannah.
This content is protected under International Copyright Laws. Pratesi Living provides this content to its readers for their personal use. No part (text or images) may be copied or reproduced, in whole or in part, without the express written permission of PratesiLiving.com. All rights reserved.
Disclosure – We were guests of Perry Lane Hotel but were not paid to visit. The opinions expressed regarding our experience are our own.
We participate in the Amazon Services LLC Associates Program, an affiliate advertising program designed to provide a means for us to earn fees by linking to Amazon.com and affiliated sites.