Mr. Bunkycooks has Gone Fishin' at the Sunburst Trout Farm in Canton, North Carolina!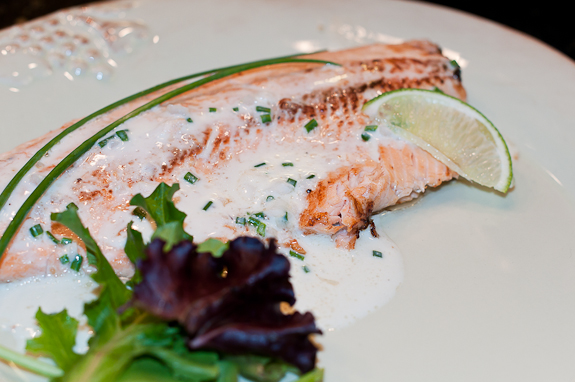 This is another post in the On the Road with Bunkycooks series. This time we traveled to a trout farm in the Shining Rock Wilderness Area in Western North Carolina!
I arranged for the Bunkycooks to meet with Sally Eason, who is the CEO and second generation of Sunburst Trout Company. I just had to go and see where this fabulous trout was coming from that we had on several occasions at Madison's restaurant in Highlands, North Carolina and at Canyon Kitchen in Cashiers, North Carolina. Mr. Bunkycooks is also now totally addicted to Sunburst's smoked trout after having it at The Grove Park Inn in Asheville.
Well, I went to round up Mr. Bunkycooks to head off to Sunburst Trout and obviously, there was a bit of a misunderstanding because I found him in his waders! I guess when I said "trout farm" he thought we were going fishing!
So, in order to solve the problem and get this urge to go fishing out of the way, we quickly headed off to one of the nearby lakes and went fishing! Since we were in a hurry, we couldn't really do much serious fishing, so this is what Mr. Bunkycooks caught! Since this fish wasn't going to even be enough for an appetizer, we released the poor little guy and headed off to find some real fish at Sunburst!
The Bunkycooks have been reluctant to eat farm raised fish because of mercury levels, PCB's (polychlorinated biphenyls) and other contaminants in most of what we know as "farm raised fish". When we had this trout, we realized there was something very different and wanted to see what they were doing to create such a delicious and fresh fish.
We met with Sally Eason and her daughter-in-law, Anna (who is a big Tweeter!) to talk about why their fish is so special at Sunburst. I was also feeling like a rockstar honored to be able to meet with Sally since Bobby Flay and Jacques Pepin have been to Sunburst. There have also been a number of articles written about Sunburst, including this one about Sally in Forbes Magazine.
Besides all the star quality stuff, I know their trout is special because I am not a fish lover normally, but this fish is sooo different and so good that even I will eat it! I find their trout to have an incredibly mild flavor and a firmer texture than a wild-caught trout.
Sunburst was started by Sally's father, Dick Jennings, back in 1948. It was the first commercial trout farm in the South. The original trout farm was on their family land in Cashiers, North Carolina. They moved to this location in Canton, North Carolina in 1965. You can read the entire history of Sunburst Trout Farms on their website. It really is fascinating.
Originally, they had trout ponds, but then built raceways after a couple years of droughts where they lost most of the fish. The raceways are far more efficient and much cleaner for trout farming. The water that runs through these raceways originates in the Shining Rock Wilderness Area in the Pisgah National Forest and flows right into Lake Logan which directly feeds their raceways. This farm is also located in the shadow of Cold Mountain (yes, that Cold Mountain of movie fame!).
When they moved to this location, they had no idea how fortunate they were. Their water source is part of the reason that their fish tastes so mild. They are also able to create a situation that can mimic the wild and is almost more optimal for raising their trout than growing in the wild. The water flows through the raceways at a rate of 12,000 gallons of water per minute. That sure sounds like a whole lot of water to me! This rate of water flow also keeps the raceways very clean, so it is not a traditional farming situation. Their trout does not contain any of the harmful pesticides, PCB's or mercury normally associated with farm raised fish. I am sure that is also why is tastes so good!

We participate in the Amazon Services LLC Associates Program, an affiliate advertising program designed to provide a means for us to earn fees by linking to Amazon.com and affiliated sites.