Mr. Bunkycooks has Gone Fishin' at the Sunburst Trout Farm in Canton, North Carolina!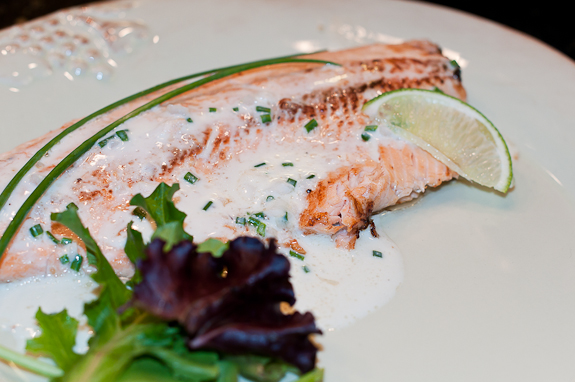 The Bunkycooks took home some fresh trout fillets and an assortment of other trout products. The dip and the cold smoked trout barely made it home thanks to Mr. Bunkycooks! If any readers are interested, you can order any of the Sunburst Trout products through their website. They will pack your goodies in dry ice and send them your way overnight! You can also find their products at select stores and farmers' markets. If you have never tried this trout, I suggest you do! It is totally different than any other trout you will ever have!
The only thing we have not devoured yet is the caviar. Mr. Bunkycooks likes it, but I am on the fence, so we are saving it for a fancy cocktail party with caviar eating friends. Anna Eason says that her two little girls (the 4th generation of Sunburst) devour the stuff and fight over it. Maybe I should invite them over to eat it!
Below is a recipe for Sunburst Trout that was inspired by a buttermilk salad dressing that I had at The Grove Park Inn. I thought the flavors in it would be a perfect accompaniment to the mild taste of the trout. I was right! It was delicious!
Sunburst Trout with a Buttermilk Vidalia Onion and Chive Sauce
Ingredients:
2 Sunburst trout fillets (9 ounces each) or any other nice, fresh trout fillets
1/2 cup buttermilk
2 tablespoons sour cream (I used low-fat)
2 teaspoons Dijon mustard
1 tablespoon finely chopped Vidalia onion
1/8 teaspoon salt
Freshly ground black pepper to taste
Extra-virgin olive oil
1/2 teaspoon finely chopped chives
Fresh lime slices
Directions:
Rinse trout fillets and gently pat dry with paper towels. Place in a large glass pan, flesh side up.
Whisk the first six ingredients together. Drizzle some of this mixture over trout to marinate (just enough to mostly cover the top of the fish). I used about a half of the mixture. Let this sit for thirty minutes.
Heat a large non-stick skillet over medium heat, with just enough olive oil to lightly coat the bottom of the skillet (one or two tablespoons). When the skillet is very hot, add the trout flesh side down. Sear for approximately for to five minutes until it is nicely caramelized. Carefully turn fish over and sear skin side until almost crispy, another two or three minutes. Do not over cook the fish! Remove from the pan and place on a serving dish.
Mix the chives into the remaining buttermilk mixture and drizzle over the fish. Serve with a nice squeeze of fresh lime juice.
We participate in the Amazon Services LLC Associates Program, an affiliate advertising program designed to provide a means for us to earn fees by linking to Amazon.com and affiliated sites.