The Daring Bakers' Challenge – Chocolate Swiss Swirl Cake with "Liquored Up" Cherry Vanilla Ice Cream!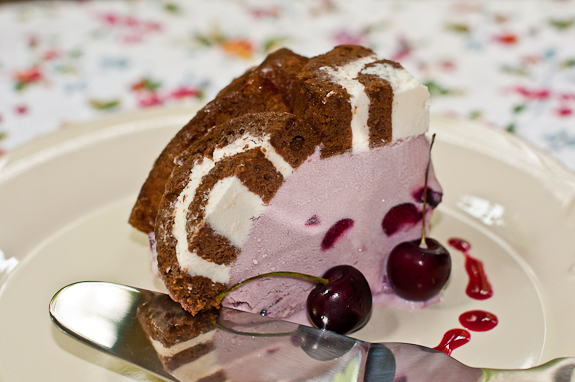 July's Daring Bakers' Challenge was to make a Swiss Swirl Ice Cream Cake. This challenge was hosted by Sunita of Sunita's World – Life and Food. For those of you not familiar with The Daring Bakers, this is a group of people (primarily food bloggers) that participate in a baking challenge each month.
Here is the description of the challenge as described by Sunita. "The recipe for this month's challenge has been adapted from this Swiss swirl ice cream cake from the Taste of Home website. Slices of Swiss roll are used to line a bowl and then filled with vanilla ice-cream, hot fudge ice cream topping and chocolate ice cream."
Now, of course, all of this baking stuff is hazardous to the waistlines very fun to participate in, but we all like to change the recipes around a bit. So as expected, my version is a little different than the the one we were asked to prepare (and hopefully a little less caloric!).
The original recipe called for making two cake rolls and one ginormous dessert! (By the way "ginormous" is now acknowledged as a "real" word, according to the Urban Dictionary!) Short of a house full of teenagers (reason I ever knew the word ginormous) or a rather large dinner party, who is going to eat all of that?! So, I opted for making one Swiss cake roll (instead of 2) and did not even use all of it (but it was good to nibble on while assembling the dessert and there are still some very tasty leftovers!). I made one batch of ice cream (not two) and left out the hot fudge sauce. You know the Bunkycooks have no business eating all of that stuff!
I did whip up a batch of homemade cherry vanilla ice cream (oh, yum!) to go along with the chocolate Swiss roll and combined them for my interpretation of this dessert. Let me just say, that it has been awhile since I have prepared a boozy dessert. Do you remember the Grand Marnier Steamed Pudding and the Blackberry Claufouti with Chambord and White Chocolate? I definitely need to be making some more of these! In fact, I say, just make the ice cream if you are not interested in the fancy dessert. It is sooo good all by itself!
Now that I have the ultimate boozy cherry vanilla ice cream recipe, it has been added to that soon to be very long list of Mr. Bunkycooks' "We can't eat that unless you make it at home" foods! SO, now add Cherry Vanilla Ice Cream with Kirsch to that list which includes homemade pasta, grind it yourself peanut butter and vanilla ice cream from scratch and I almost forgot the strawberry jam. What will be next?? Maybe I should not ask!
I did take this delightful dessert to a small dinner party (5 people) and we had leftovers. One half of this recipe is sufficient to feed 8 people. I drizzled the individual slices with some of the remaining Kirsch and cherry juice liquid. * You must make sure you reserve some of this juice and do not use it all in the ice cream (just save 1/4 of a cup out) and then be sure to collect all the juice from the cherries to add that to the mixture. It really adds a lovely flavor to the cake and brings out the flavor of the cherries. By the way, if you do not have a cherry pitter, you need to get this one. It makes preparing cherries a piece of cake (no pun intended)!
Thank you to Sunita for hosting this month's challenge! It has been years since I have made a chocolate Swiss roll cake and I had forgotten how much fun it is.
Chocolate Swiss Cake Roll with Cherry Vanilla Ice Cream
Ingredients:
Suggestions on preparation – I made the base for ice cream the day before. I then baked the cake roll the next day. While it cooled, I made the whipped cream. I then filled the cake with the whipped cream and refrigerated the cake (wrapped tightly in plastic). I prepared the cherries and then made the ice cream. I froze the ice cream to a firmer consistency (it took a few hours) and then assembled the cake. It needs to remain in the freezer for several hours before serving.
Cherry Vanilla Ice Cream
Makes approximately 1 quart
2/3 cup sugar
2 large eggs, at room temperature
2 tablespoons all-purpose flour
1/4 teaspoon salt
1 pound cherries, pitted and halved
1/2 cup sugar
1 teaspoon lemon juice
3 tablespoons Kirsch
1 2/3 cups whole milk
1 cup heavy cream
2 teaspoons vanilla extract
Chocolate Dessert Roll Cake
(Adapted from Pillsbury)
1/2 cup unbleached, all-purpose flour
1/4 cup unsweetened cocoa
1 teaspoon baking powder
1/4 teaspoon salt
4 eggs, at room temperature, separated
3/4 cup sugar
1 teaspoon vanilla
2 tablespoons water
Sweetened Whipped Cream
8 ounces of heavy whipping cream
2 1/2 tablespoons sugar
1/2 teaspoon vanilla
Directions:
For custard for ice cream:
In a medium mixing bowl, beat the sugar into the eggs until thick and pale yellow. Beat in the flour and salt and set aside.
Bring the 1 2/3 cups of heavy cream and skim milk mixture to a simmer in a medium heavy saucepan. Slowly beat the hot milk into the eggs and sugar. Pour the entire mixture back into the pan and place over low heat. Stir constantly with a whisk until the custard thickens slightly (it should coat the back of a spoon). Do not let the mixture boil or you will have scrambled eggs.
Pour the hot custard through a strainer into a large, clean bowl. Allow the custard to cool slightly. Add the cream and vanilla. Mix well. Cover and refrigerate until well chilled or overnight. I prefer to let mine chill overnight.
For cherries for ice cream:
Combine cherries and sugar in a medium saucepan. Bring to a boil. Cook on low to medium heat for about 8 minutes or until soft. (The liquid should be thick and you should have about 1/2 cup or slightly more.) Strain the cherries and set the liquid aside. Add the lemon juice and Kirsch to the liquid. Cool.
Add 1/2 cup of the liquid to the chilled custard mixture, reserving the rest of the liquid. Stir well to combine. Freeze in your ice cream maker, according to manufacturer's directions. When the ice cream is at the soft-serve stage, add the cherries. Freeze for an additional 5 minutes or until cherries are combined and ice cream has returned to soft-serve stage. Remove the ice cream form the freezer, transferring to a container. Freeze until almost firm (several hours).
* Be sure to take the extra liquid that has gathered from the cherries and add it to any of the other liquid reserved from earlier. You will want to use this to drizzle on the cake.
For cake:
Heat over to 350 degrees. Generously grease (not oil) bottom only of a 15×10-inch jelly roll pan; line with parchment paper and grease again. Combine first four ingredients; set aside. In small bowl, beat egg whites until foamy. Gradually add 1/2 of sugar, beating continuously until stiff peaks form. Set aside.
In large bowl, beat egg yolks until thick and lemon-colored. Add remaining sugar and vanilla; beat until very thick. Stir in water. Add flour mixture gradually, folding into egg mixture after each addition. Gently fold in beaten egg whites. Spread batter into prepared pan. Bake at 350 degrees for 18 to 22 minutes or until top springs back when lightly touched in center.
Remove pan from oven. Loosen edges; immediately turn onto towel dusted with powdered sugar. Starting at narrow end, roll up cake in towel; place on rack to cool completely. In the meantime, prepare the whipped cream.
For whipped cream:
In a large bowl, add the cream, sugar and vanilla and beat till very thick. Use right away to fill chocolate cake roll.
For assembly:
Carefully unroll cake. Spread sweetened whipped cream evenly over chocolate cake roll, coming to within 1/2 inch of the edges. Carefully roll the cake and wrap tightly in plastic wrap. Store seam side down. Refrigerate until ready to use.
Line a medium sized bowl with plastic wrap. Remove the cake roll from the refrigerator. Carefully slice cake into slices. (Mine were about 3/4 inch thick and I had leftovers). Place the slices around the inside of the bowl, as desired. Remove the ice cream from the freezer and spread evenly over the cake slices in the bowl. Cover the dish with plastic wrap and freeze several hours, or until ice cream is firm.
To unmold, turn bowl upside down over a serving plate. Warm up the bowl with your hands. The cake should loosen from the bowl. Remove the plastic wrap. Cut into slices and serve them drizzled with Kirsch flavored cherry juice.
We participate in the Amazon Services LLC Associates Program, an affiliate advertising program designed to provide a means for us to earn fees by linking to Amazon.com and affiliated sites.