Taking On Winter in Edmonton, Alberta, Canada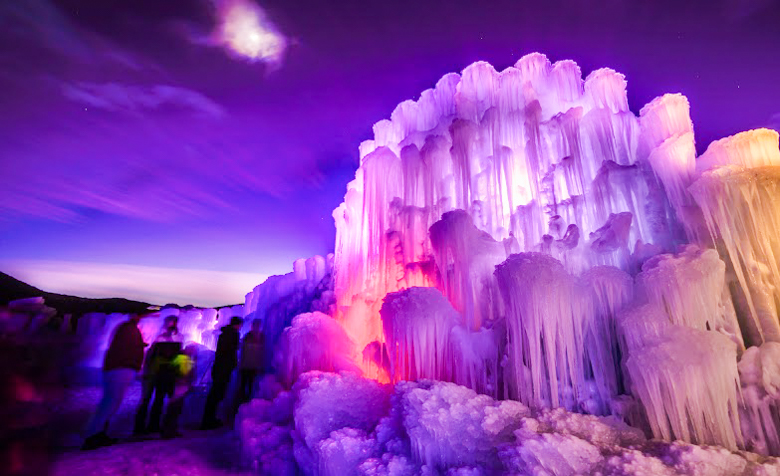 – Winter in Edmonton is the place to be – at least that's what my relatives tell me –
I was freezing. Seriously, I could hardly feel my toes.
Wrapped in the fashionable leather coat I had worn on my flight up from Atlanta and the thin ankle socks in my unlined, but might I say, stylishly high boots, didn't exactly help. You'd think I would remember that in -23°C (that's only -9°F), the only functional "brave the elements" clothing are those black and white thermal socks, a puffy parka that adds another 20 pounds to my already holiday fattened-up body and a pair of fur-lined Sorels, but, alas, like many things in my life, I had forgotten.
Did I actually agree to this outdoor excursion? I thought I was just going to hang out at the mall, West Edmonton Mall that is, with over 800 stores, a luxury hotel, over 100 food stops, a theme park, an indoor water park, a sea-life park that includes a life-size replica of Christopher Columbus' Santa Maria, an 18-hole mini-golf course, Casino and a regulation-size recreational ice rink – I wasn't planning on stepping outside. In other words, when a U.S. dollar gets you $1.40 Canadian it's time to go shop. Sorry Canada, but I am a girl after all.
Growing up in Edmonton I hadn't always been this much of a wimp. In fact, I vaguely can remember embracing winter and joyfully lacing up my skates and spending hours outside skating in circles around the pond at Hawrelak Park, occasionally warming up with a hot chocolate in the club house, sledding down Government House Park, wildly racing after my sisters and brother, snowshoeing through the river valley and even once taking an alcohol-infused icy toe dip into the Saskatchewan River on New Year's Day, something I wouldn't recommend! As I aged and moved to Atlanta, Georgia and basked in much more temperate seasons, my tolerance for the cold appears to have diminished, to say the least.
I admit, though, that after three grueling days dodging the maddening crowds at West Edmonton Mall—where the hell did the damn Orange Julius go anyways?—I was ready for an adventure. I was off to see the latest Cold Relief, uh distraction: the newly installed Ice Castle Exhibit that had taken over a large portion of Hawrelak Park, had just recently opened.
An innovative American company based in Utah, this is Ice Castle's first venture in Canada and by the huge crowds (much more suitably dressed than I) huddled rather contentedly in the long lines waiting to get in—they are Canadian after all—it's a smash hit.
Like the company's other dramatic castles, the Edmonton Ice Castle is made up of approximately 125,000 US tons of ice and weighs over 25,000,000 pounds.
Incredibly labor intensive, it took over a month to construct. The icicles are hand-built on site—over one hundred-thousand of them!–by continuously spraying water over a series of metal racks. Once they're large enough, the icicles are snapped off by hand and arranged lattice-like with one another and then joined together using slush. Then they're sprayed with water again, thus covering the linked icicles with a layer of ice.
The process is continuously repeated, with more icicles and sprayed-on water added on top of what's already there, until a series of stalactite-like towers are built. Workers then use a variety of tools to carve out features such as tunnels and walkways between the castle sections.
Excited and mall fatigued, I first visited the site during the day. Although stunning, it wasn't until nightfall that the real dramatic beauty took your breath away. Gorgeously lit, the castle is showered with lights that change in color as the music plays. In addition to enjoying the show, visitors also stroll around, take a spin down the ice slide, and warm themselves by the fire pit that's built right into the ice. Seriously, very cool.
So although I typically prefer my "Castles Made of Sand" (Jimi Hendrix lyrics just floated by), Ice Castles rising out of my hometown park were a delightful way to spend an early evening with family and friends. With all that exercise it's a great excuse to warm up with a winter cocktail, featuring two of Canada's greatest gifts to the Beverage world – Canadian Rye Whiskey and Ice Wine (recipe below).
Thanks Edmonton!
According to the Experts, here's how to dress for a visit to an Ice Castle. So leave the fashion clothing behind, bundle up and discover the great outdoors.
Dress for winter! Warm clothes and winter boots are best. Shoes and boots with flat soles (like dress shoes or cowboy boots) are slippery and not recommended.
Everything inside the Ice Castle is made of ice and snow, including the walking paths. On sunny, warm days, the ice and snow will melt and the surface can become slippery.
Most people don't have any difficulty walking through the Ice Castle with or without ski poles. However, if you are concerned about your safety inside the Ice Castles, please make your concern known to one of the staff before entering the Ice Castle.
When you enter the Ice Castle, you agree to obey the Ice Castle rules and you accept their Waiver of Liability.
Where to find it: Hawrelak Park, 9930 Groat Road, Edmonton, AB T5J 2R7
∗ These photos are courtesy of Edmonton Tourism
All other images (unless noted) are courtesy of Ice Castles, LLC
10 Below Sour
Ingredients:
1 ounce oaked aged vidal ice wine
1 ounce Canadian Club whiskey
1/2 ounce Cointreau
1 egg white
1 splash of lemon juice
Directions:
Combine all ingredients in a cocktail shaker. Shake vigorously until frosty. Strain into a rocks glass filled with ice. Garnish with a cherry.
Recipe provided by Peller Estates Winery
This content is protected under International Copyright Laws. Pratesi Living provides this content to its readers for their personal use. No part (text or images) may be copied or reproduced, in whole or in part, without the express written permission of PratesiLiving.com. All rights reserved.
We participate in the Amazon Services LLC Associates Program, an affiliate advertising program designed to provide a means for us to earn fees by linking to Amazon.com and affiliated sites.