Overnight Oatmeal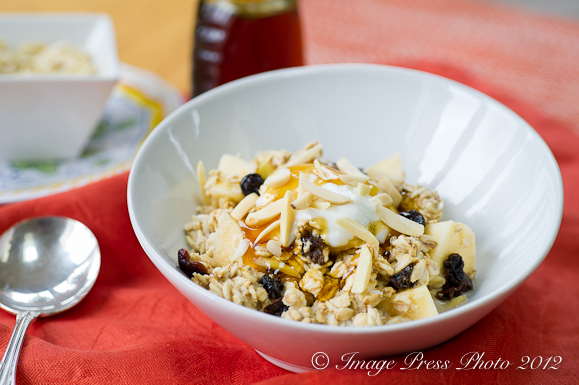 Do you have the ingredients in your pantry to make several lunches or dinners with the addition of a just few fresh ingredients? There is always pasta when all else fails, but wouldn't it be nice to have some other healthy options when you open up the door to your pantry?
That is the idea behind the Stock a Healthier Pantry for $50 promotion from Whole Foods Market®. Everyone is looking for ways to watch their weight and budgets and eat healthier foods, especially at the beginning of a new year. With this concept, you can stock your pantry with 23 healthy staples for about $50.00. Just add a few fresh vegetables, fruit, cheeses and herbs and you should be able to source that inner kitchen creativity we know you have and prepare any number of dishes from breakfast to dinner. 🙂
This list of Healthier Pantry Staples suggested by Whole Foods Market® includes:
1 lb. black beans
1 lb. lentils
1 lb. quinoa
2 lbs. brown rice
3 (32 oz.) boxes vegetable broth
1 (32 oz.) box chicken broth
1 lb. rolled oats
2 cans cannellini beans
2 lbs. pasta
1 can black beans
1 jar unsweetened applesauce
1 (32 oz.) box non-dairy beverage
1 (32 oz.) box almond milk
1 (5 oz.) can tuna
3 (15 oz.) cans diced tomatoes
1 package no-oil sun-dried tomatoes
1 jar pasta sauce
Whole Foods Market® has recipes on their website and on their Whole Story Blog utilizing these pantry staples. One of their recipes I tried was Orecchiette with Broccoli Rabe, Sun-Dried Tomatoes and White Beans. The only ingredients you need to complete this dish (beside the pantry staples) are garlic, Extra-virgin olive oil, Parmesan cheese and broccoli rabe. The dish comes together quickly and makes about six servings.
I substituted organic broccolette for the broccoli rabe since we find the latter bitter. The broccolette required a little longer to cook, but was excellent with the dish. Next time I would prepare a light white wine, garlic and butter sauce to add more flavor and moisture to the pasta. I would also use sun-dried tomatoes in oil. I added a pinch of red pepper flakes to the dish for heat and some additional Parmesan cheese. The basic recipe is a good starting point and with a few additions it would be a nice light pasta dish for a weeknight's supper.
The second recipe I prepared with my healthier pantry staples was Overnight Oatmeal, which is a variation on Muesli. I made the basic recipe which included two cups of rolled oats and your choice of two cups of milk, soy milk or almond milk. I chose to use the almond milk for additional flavor. I lightly toasted the oats prior to soaking them in the almond milk overnight.
Their recipe calls for the addition of lemon zest and vanilla and suggests chopped nuts, peaches or apricots and agave nectar, if you like it sweeter. I added the lemon zest and vanilla, but changed up the fruit and went with a mixture of dried fruits (raisins, blueberries and cranberries), fresh chopped apple and slivered almonds. Topped with some vanilla yogurt (Greek or regular) and a drizzle of local honey, this is a delicious and healthy way to start your day.
Whole Foods Market® is offering one of my readers a $50 gift card so you can stock your pantry with some healthy options for meals. You may also enter the contest on their Whole Story blog. This contest gives you the opportunity to win one of thirty-one $50 gift cards and five grand-prize packages that include:
Pantry Staples for a Year – Each grand-prize winner will receive a Whole Foods Market® gift card for $599 to use for stocking your pantry for a year.
Customized elfa® pantry system from The Container Store ($500 value) – Each grand-prize winner will receive a customized pantry design from The Container Store and a $500 elfa® Store More Card to makeover your pantry.
Be sure to head over to their blog to enter their contest by January 31, 2012. In the meantime, here is how you enter to win the $50 gift card giveaway on Bunkycooks.com! You can enter up to three different ways.
***THIS GIVEAWAY HAS ENDED***
First entry:
Leave a comment telling me what dish you would make with these healthy pantry staples.

Two Extra Entries:
Here are 2 additional ways that you can enter:
1. Follow @bunkycooks on Twitter and become a fan on Facebook. Leave a comment here indicating that you are now a follower and a fan. If you are already, you can leave a comment saying you are.
2. Follow @Whole Foods on Twitter and become a fan of on Facebook. Leave a comment here indicating that you are now a follower and a fan. If you are already, you can leave a comment saying you are.
*** Please be sure to leave separate comments! I will count one comment as one entry. Thank you! ***
This giveaway ends at 5 pm EST on Tuesday January 31, 2012.
I will notify the winner by email. Please get back to me with your shipping information within 48 hours or I will choose another winner.
Good luck!
Disclosure – Whole Foods Market® provided me with the 23 Healthier Pantry Staples and the $50 gift card giveaway for my readers.
Overnight Oatmeal with Fresh Fruit, Nuts and Yogurt
You will need to prepare this the evening before to let the rolled oats moisten in the milk. I toasted my oats in the oven at 350 degrees for 10 minutes (stirring halfway through) before mixing them in with the milk.
Ingredients:
2 cups rolled oats (not instant or quick cooking)
2 cups lowfat milk or unsweetened soy milk or almond milk (I used unsweetened almond milk)
1 teaspoon lemon zest
1/2 teaspoon vanilla extract
Slivered almonds or any other chopped nuts you prefer
Dried fruits (I used a mixture of raisins, blueberries and cranberries)
Chopped fresh apple
Vanilla or honey yogurt, regular or Greek
Local honey
Directions:
1. Combine oats, milk, zest and vanilla in a bowl, cover and refrigerate overnight.
2. The next morning, scoop oatmeal into bowls and mix in your choice of nuts, dried fruits and chopped apple. Top with yogurt and a drizzle of local honey.
Adapted from Whole Foods Market®
We participate in the Amazon Services LLC Associates Program, an affiliate advertising program designed to provide a means for us to earn fees by linking to Amazon.com and affiliated sites.