Montaluce Winery and Le Vigne Restaurant-Dahlonega, Georgia and a recipe for Berkshire Pork Meatballs
Roger and I are fussy eaters and I must say that Chef Hartman has done an incredible job with the menu at Le Vigne. It is truly worth the drive just to sample some of his dishes.
Thank you so much to Rob for taking the time to visit (and drink!) with us at Montaluce. It is an exceptional piece of property, winery and restaurant that can take you away to another place just one hour outside of Atlanta. wish them the best of luck in becoming Georgia's premier farm to table winery. I think they are well on their way!
By the way, congrats to Montaluce for being one of the wineries to win "The Challenge", four Napa wines versus four Georgia wines, in a blind tasting, sponsored by Georgia Production Partnership. Georgia won in three of four categories. Montaluce's Chardonnay was one of the winning wines.
Chef Hartman was kind enough to share one of his recipes with me to share with you. I can't wait to make these!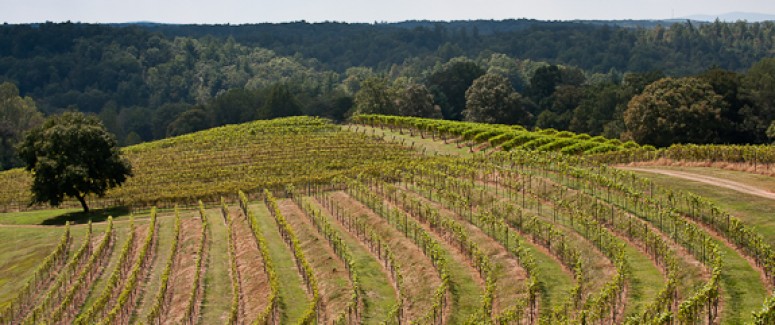 Berkshire Pork Meatballs
Recipe courtesy of Executive Chef Steve Hartman
Le Vigne at Montaluce Winery
Ingredients:
5 pounds ground pork (from a quality source)
4 cloves fresh garlic, chopped
3 eggs, beaten
1 ounce fresh oregano, chopped
1 ounce fresh basil, chopped
4 ounces grated Parmesan cheese
8 ounces ricotta cheese
2 cups Pork or Chicken stock
Tomato sauce, as needed
Salt and Pepper to taste
Directions:
Combine pork, garlic, eggs, oregano, cheese, salt and pepper and mix well. Once all ingredients are well incorporated, form meat balls into desired size, and sear in a heavy bottom sauce pan. Once nice color (this might have to be done in batches) is achieved, remove the meatballs from the pan and deglaze with stock, keeping all of the flavorful brown bits from the pan. Add the meatballs back to the pan and add enough tomato sauce to cover the meatballs ¾ of the way. Place in the oven at 275 for three hours. Once the meatballs are cooked, the sauce will be a little thin. Use some of the cooking liquid with fresh red sauce to achieve desired consistency, and serve over polenta, or your favorite pasta. Garnish with freshly grated Parmesan.
We participate in the Amazon Services LLC Associates Program, an affiliate advertising program designed to provide a means for us to earn fees by linking to Amazon.com and affiliated sites.