Meeting the Master Distiller at Woodford Reserve and Bourbon Sweet Potato Biscuits
Woodford Reserve is part of Slow Food USA and is the original Slow Food Bourbon Distillery (and may be the only one). They are also members of Kentucky Proud. They buy local corn and are the only bourbon distillery that does. Unfortunately, no grains or rye grow in Kentucky that are fit for human consumption, so they purchase the rye from the Dakotas and the malted barley from Wisconsin.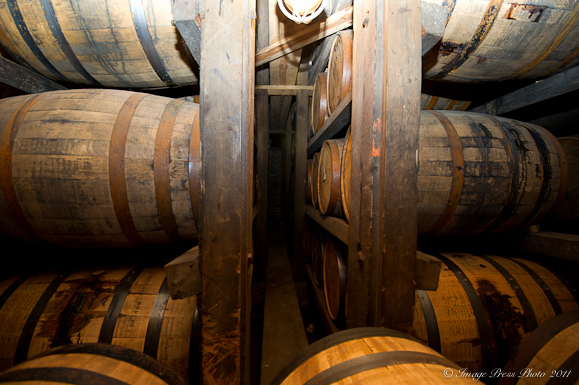 Chris says that Wooddford Reserve lends itself well to cooking as many other bourbons do not. "It is balanced and sophisticated and easy to use in the kitchen". He said that if a bourbon has more wood notes it is less versatile. If a bourbon is corn driven, then the corn flavors will come out.
So, what is Chris' favorite dish made with bourbon? Since they have a two times James Beard award winner, Ouita Michel, as their resident chef, that might be a tough question! He told us that it had to be a Woodford Reserve honey-brined chicken that was prepared at a bourbon dinner in New Orleans one year. He said it was just an incredible blend of bourbon, herbs and spices and I am sure it was! However, I like my Woodford Reserve a wee bit too much right at Derby weekend to use it as a brine, so you all are getting a recipe for Sweet Potatoes Biscuits made with bourbon! 😉
Thank you so much to Chris Morris and the staff at Woodford Reserve for making our visit a memorable one!
Chris gave me a copy of their wonderful cookbook, The Woodford Reserve Culinary Cocktail Tour: A Journey with Bourbon. It is filled with incredible recipes from well-known chefs and I highly recommend it.
Here is the recipe for Sweet Potato Biscuits from that cookbook. We paired them with a wonderful local country ham from North Carolina. I also made a few with some melted Farmstead Cheddar Cheese. Either way, they were delightful. You get such a nice subtle flavor of the bourbon in the biscuit. Paired with a glass of Woodford Reserve (or a nice bourbon cocktail), you will be all set for Derby Day today!
Enjoy your weekend!
Sweet Potato Biscuits
Ingredients:
1 1/2 cups flour (I use all purpose, unbleached flour. You might need more for mixing and dusting.)
2 tablespoons sugar
4 teaspoons baking powder
1/2 teaspoon salt
1/8 teaspoon baking soda
3/4 cup milk (I used whole milk)
3/4 cup mashed sweet potatoes (I baked my potatoes, then scooped and mashed them)
1/4 cup shortening
2 tablespoons Woodford Reserve bourbon
1 tablespoon butter, melted
Directions:
Preheat the oven to 425 degrees. Mix the flour, sugar, baking powder, salt and baking soda in a bowl. Combine the mil, sweet potatoes, shortening and bourbon in a bowl and mix well. Add the flour mixture and mix just until combined; do not overmix (you may need to add more flour because my dough was very moist).

Knead the dough on a lightly floured surface for 30 seconds. Roll the dough to 3/4 inch thick and cut into rounds using a 2 1/2-inch cutter. Arrange the rounds 1 inch apart on a baking sheet and bake for 12 to 15 minutes or until puffed and golden brown.

Brush the tops with the melted butter and remove to a wire rack.

Serve with country ham.

* Cook's notes – If you have time, bake and mash your potatoes and then let them sit and drain over a sieve for a bit. I did not do that and my batter was quite moist, so I needed to add additional flour.

Linda Nee
The Woodford Reserve Culinary Cocktail Tour: A Journey with Bourbon
This content is protected under International Copyright Laws. PratesiLiving.com provides this content to its readers for their personal use. No part (text or images) may be copied or reproduced, in whole or in part, without the express written permission of PratesiLiving.com. All rights reserved.
We participate in the Amazon Services LLC Associates Program, an affiliate advertising program designed to provide a means for us to earn fees by linking to Amazon.com and affiliated sites.