Interview with Chef Joseph Lenn at Blackberry Farm-Walland, TN & Guinea Confit with Gnocchi & Poached Eggs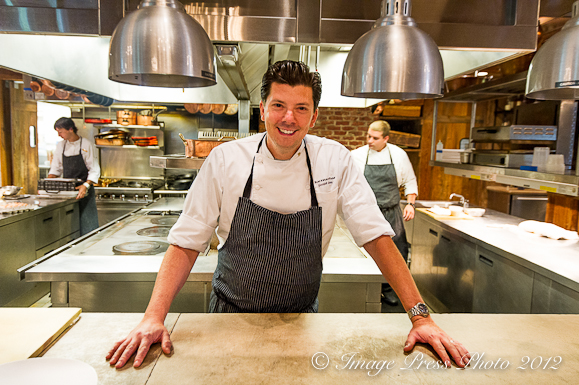 There are certain things I can always remember from my childhood.  When I was asked to write a story about a dish for Blackberry Farm when I first took over at the Main House, it was really more about a day, Saturday, at my grandparent's house. – Chef Joseph Lenn
If you start with great ingredients, why would you want to mask the flavors and change it from what it is?  Take a gorgeous, ripe heirloom tomato at its summer peak, add just a little bit of salt.  You don't need much else to "make it shine".
We often ask chefs how they create extraordinary dishes and the vast majority will say you first start with great ingredients, add to that imagination and creativity, and finish with culinary technique.  Many chefs speak of the importance of family and food memories from their childhood in their playful reinventing of familiar dishes to create, say, the best fried chicken you ever ate.
We recently met with Joseph Lenn, Executive Chef of The Barn at  Blackberry Farm in Walland, Tennessee (the home of Foothills Cuisine) and asked what is behind his inventive cuisine.  Besides great ingredients, his inspiration comes from two of the most important things in his life: his family (and in particular, preserving memories of his grandmother and grandfather), and his love of fishing.
Joseph Lenn was a finalist in the 2012 James Beard Foundation Awards for Best Chef Southeast and was also in the running for Food & Wine's The People's Choice Best New Chef in the Southeast.  He was honored in 2011 to receive the title of Grand Chef by Relais & Chateaux, as well as being included in Food & Wine as one of the top upcoming New Chefs.  Chef Lenn travels extensively to food and wine festivals and special events around the country in addition to staying extremely busy at Blackberry Farm.  It was a real pleasure to be able to sit down and chat with this very personable, sentimental, and thoughtful chef at this stunning resort in the Smoky Mountains of Tennessee.
There are smiles, expressive movements, and laughter as Joseph speaks about his grandparents.  You can feel the love he has for his "granny and grandpa."  While his grandfather passed away six years ago, his grandmother is doing well at age 87 and Joseph spends as much time with her as possible.  He is chronicling her stories, many about food, to preserve for the next generation.
"Grandpa made the best breakfast ever.  Granny was never an early riser and still isn't today.  She stays up all night listening to the radio and news and reading books, so Grandpa would make bacon and eggs in the morning.  It is how I learned to make scrambled eggs.  I wondered why my parent's eggs weren't that good and I realized at some point, no wonder Grandpa's tasted so good, he cooked those eggs in bacon fat!
"There are certain things I can always remember from my childhood.  When I first took over at the Main House, I was asked to write a story about a dish for Blackberry Farm, it was really more about a day, Saturday, at my grandparent's house.  What I remember is that my Granny always served the same meal every Saturday at lunch: greens, boiled potatoes, beans (like Great Northern or Pintos) seasoned with "streaked meat" (fatback), and a simple salad.  No real meat was served at all."
Joseph's grandfather and grandmother grew up in difficult times and the Saturday lunch was very important to them as a family.  "This (meal) was going back to what she was raised on during Depression times.  It was an appreciation for what they have and a reminder of where they came from."
Recently traveling to Northeast Tennessee for a family funeral, Joseph was able to see, for the first time, where his grandmother was born in the Clinch Mountain region of Hawkins County.  "I had never been there.  It was great to finally see where my family is from.  It brought home my grandmother's stories about food and where she was raised."