Cheesy Spinach Casserole – A Steakhouse Side Dish and an Update
The only time to eat diet food is while you're waiting for the steak to cook ~ Julia Child
Steak night is a special event in many homes these days. Whether it's served for a celebration, holiday meal, or prepared for dinner guests, the cost of good beef, particularly if you buy local meat as we do, has made it a less frequent menu option. When we do serve either a New York Strip or Filet Mignon, we will pair it with more decadent side dishes than usual, creating an opportunity to turn the meal into something exceptional.
Cheesy Spinach Casserole is the last of the three Steakhouse Side Dishes I created featuring one of our favorite cheeses, Jarlsberg. You might remember the first recipe, a Kicked Up Macaroni and Cheese which was elevated to new Mac and Cheese levels with a bit of spice, heat, and smokiness from the addition of chorizo, Poblano chilies, Mexican chili powder, and Hickory Smoked Jarlsberg. Regular Mac and Cheese will never taste the same again after trying this dish. 😉
The second recipe was a rich, creamy, and Southern influenced version of a classic French potato dish, Country Potato Gratin. This Steakhouse Side Dish gets it's lusciousness from the combination of chicken broth, milk, heavy cream, Jarlsberg cheese and Benton's Smoky Mountain Country Ham which gives the potatoes a unique smoky flavor making it a real stand out and a new go-to potato side dish in our home.
While I like spinach, creamed spinach has never been a favorite. Offered on steakhouse menus across the country for many years and sometimes served at holiday gatherings, this traditional side dish generally lacks flavor and interest. My updated version brings in different textures and unique flavors by adding sautéed mushrooms and a touch of sherry to the spinach. It is then combined with a divine cheese sauce made with Jarlsberg and finished with buttered Panko crumbs and freshly grated Parmesan cheese. I love the crunch of the topping and the contrast to the consistency of the other ingredients.
Any or all of these dishes are ideal to grace your table when you are looking to raise the flavor and interest of the usual side dish. While serving them alongside your favorite cut of beef or bison would be the most obvious choice, they are also perfect with pork or a roasted chicken. With fall upon us and winter not far behind, they are the ultimate comfort food recipes that you will want to make over and over again.
On another note, I wanted to update all of you on a few things that are happening with Bunkycooks. You may have seen the last post when we were traveling in Arizona for two weeks. We just returned this past Friday. It was a truly incredible and life changing journey and I look forward to sharing a number of travel, culture, and food articles with our readers over the coming months. We also have some other exciting trips coming up soon, so stay tuned for more culinary adventures.
Some very exciting news that I would also like to mention is that we are in the middle of working with an agent on a book proposal. I can't give all the details yet, but hope that we will be able to do so in several months. I am very excited about the book's concept and can't wait to see everything come together down the road.
Finally, on a not so positive note, our dog Beamer is going to have surgery later this week. He has a growth on the inside of his lip which has grown and changed quickly, so it needs to be removed and biopsied. Beamer will be twelve years old at the end of December. His age combined with his paralysis that we went through a year and a half ago and the compromised state of his immune system make us very nervous about anesthesia. We are taking him to University of Georgia's Veterinary Hospital where his neurologists can monitor the situation and assist with administering the anesthesia. We know it's the best place to have this procedure done. All well wishes, good vibes, and prayers are appreciated.
We'll be back soon with an update on Beamer, more on our travel adventures, and other articles we look forward to bringing to you in the near future.
Enjoy the recipe!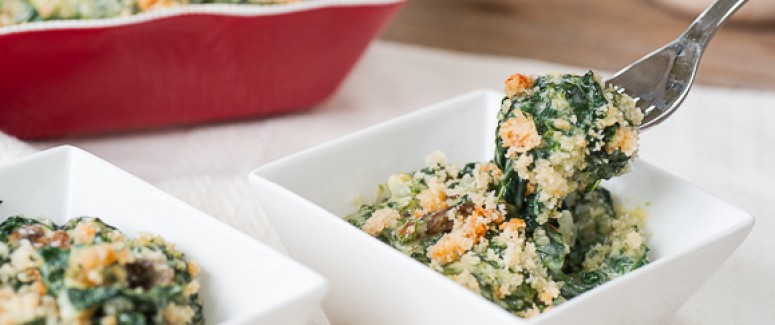 Cheesy Spinach Casserole
Creamed spinach gets a refreshing update with sautéed mushrooms cooked with a splash of sherry, grated Jarlsberg cheese, and a crispy and buttery Panko crumb topping with Parmesan cheese. The addition of these unique flavors and textures makes this a side dish worthy of a great steak and one that is most memorable.
Ingredients:
For Spinach Casserole:
1 pound organic baby spinach
4 ounces white button mushrooms, cleaned and sliced
1 Tablespoon olive oil
3 Tablespoons unsalted butter,divided
3 - 4 Tablespoons dry sherry
1/2 cup whole milk
1/2 cup heavy cream
2 cloves garlic, smashed
1/4 cup chopped onion
2 Tablespoons all-purpose flour
3/4 teaspoon Kosher salt or more to taste
1 cup grated Jarlsberg cheese
Freshly ground black pepper
For Topping:
1/4 cup Panko crumbs
1/4 cup freshly grated Parmesan cheese
1 1/2 Tablespoons butter, melted
Special equipment:
1-quart casserole dish
Directions:
Method:
Preheat over to 350 degrees. Butter a 1-quart casserole dish and set aside.
Make topping by combining all ingredients. Mix well and set aside.
Wash and drain spinach and place in a large non-stick pot over high heat. Once spinach starts to wilt, lower heat and steam until all of the spinach is wilted, stirring frequently to make sure it doesn't stick to the sides. This will take just a few minutes. Do not overcook the spinach. Remove spinach from the pot and drain in a colander. Place the cooked spinach on a clean kitchen towel and press to remove the excess water (This may have to be done twice). Place the spinach on a cutting board and rough chop it. Cover with a towel and set aside.
In a small saucepan, combine milk and heavy cream and 2 cloves smashed garlic. Bring to a simmer over medium heat. Simmer a few minutes over very low heat and then cover and set aside for 15 minutes to infuse the garlic flavor. Remove the smashed cloves. If a little garlic remains, that's fine.
Meanwhile, in a medium skillet over medium-high heat, combine olive oil and 1 Tablespoon of butter and heat until the foaming subsides. Add mushrooms, reduce heat and sauté over medium heat. Season with a little Kosher salt and freshly ground black pepper. Cook until mushrooms are almost brown, about 7 to 8 minutes. Add the sherry and cook until mushrooms are nicely browned and sherry has evaporated. Set aside.
Melt 2 Tablespoons butter in a small saucepan over medium heat. Add onion and cook, reducing heat to low, until onions are translucent, about 5 minutes. Gradually add flour and salt, stirring constantly. Cook a few minutes over medium-low heat, continue stirring, until roux is smooth.
Slowly add milk and cream mixture in a steady stream to the roux, whisking constantly. The mixture will become quite thick. Reduce heat to low and heat until mixture is smooth and very warm, still whisking constantly. Do not let it come to a boil. Add the grated cheese and combine until cheese is melted.
Place the spinach and mushrooms in a medium bowl. Add the cheese sauce, stirring frequently to coat the vegetables. Taste for seasonings and add salt and pepper as desired. Turn into the prepared casserole and sprinkle with Panko topping.
Bake 25 to 30 minutes until mixture is hot and bubbly and topping is browned. Let sit 5 minutes before servings.
Recipe developed by Gwen Pratesi - Bunkycooks.com
We participate in the Amazon Services LLC Associates Program, an affiliate advertising program designed to provide a means for us to earn fees by linking to Amazon.com and affiliated sites.