Coffee Ice Cream with Chocolate Chunks and Homemade Dulche de Leche
The fun continues at the Bunkycooks this weekend as we are winding our way towards the end of the wedding odyssey. As you may know, we have been party animals entertaining family all week long leading up to the big day.
We have shared way too much wine, food, laughter that caused me to pee in my pants and great times. I am now ready for it all to end and for everyone to go home so that I can have my house back, stop the insanity and get some rest! However, until that time comes, we will continue the fun and keep on drinking and eating!

As you may know, we had quite the Cinco de Mayo celebration Tuesday evening. We had really fabulous sangria from Barcelona and some traditional Mexican dishes. It was lots of fun (proven by the sluggish movement of all individuals in the house the next morning) and the food was really yummy (if I must say so myself!).
I decided to make some ice cream for dessert for our little party along with some homemade dulche de leche. There is nothing better than the taste of ice cream that has been freshly churned in your kitchen. You will never again want to buy a carton of the stuff in the frozen foods section. Well, let me tell you, the same is true of dulche de leche! OH MY GOODNESS! This is one of the best things I have ever put in my mouth! Homemade, rich, gooey caramel…yum!
The process of turning milk and sugar into caramel took a little longer than I had anticipated, but, what the heck. I was rocking in the kitchen cooking the main dish, drinking some sangria and just stirring the pot of dulche de leche…it was okay by me and so worth it!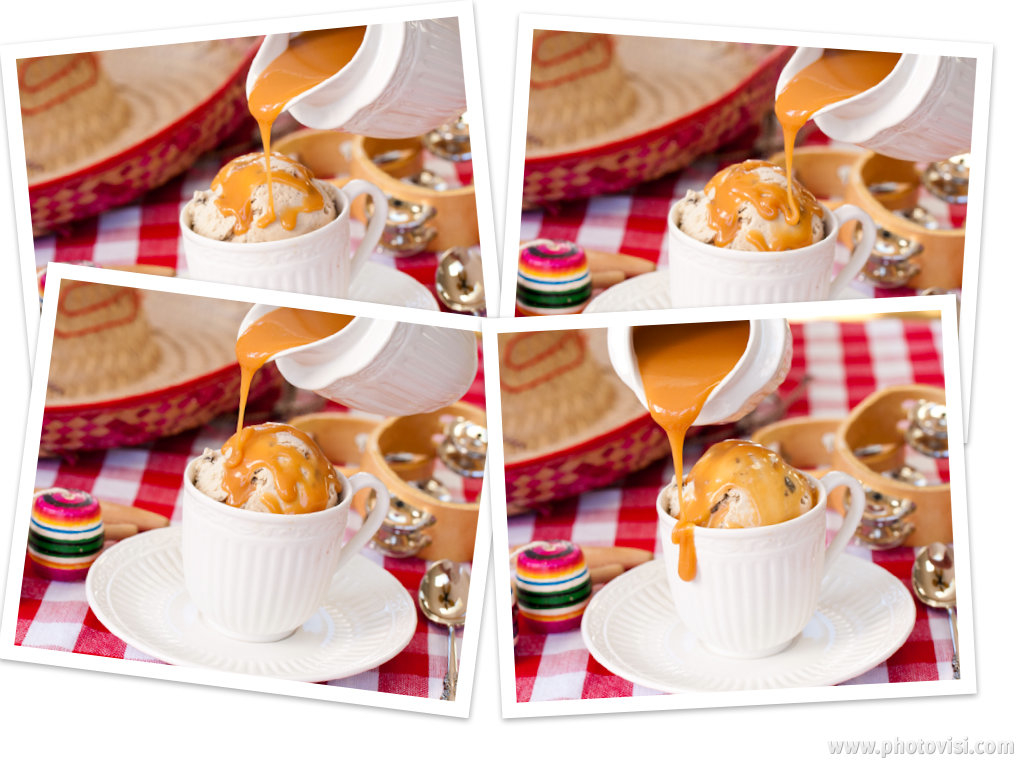 I added some dark chocolate chunks to the the coffee ice cream, so we had coffee, dark chocolate and caramel all in one dessert! Oh, yay!
Besides eating the rest of the ice cream over the next few days, I will follow in the footsteps of the world famous partiers from Saturday Night Live until everyone is gone and all of the festivities have come to a close…Party on Wayne! Party on Garth!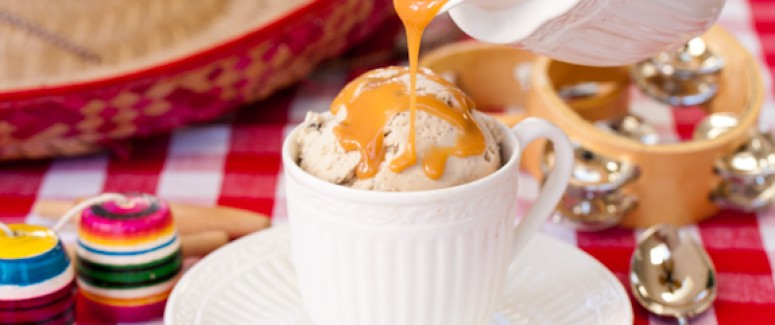 Cuban Coffee Ice Cream with Dark Chocolate and Dulche de Leche
Adapted from myrecipes.com (Sunset magazine)
Serves 8
Ingredients:
Ice cream
6 large egg yolks
2 cups whole milk
2 cups whipping cream
3/4 cup sugar
1 cup dark-roasted coffee beans, coarsely chopped
2 tablespoons dark rum
1 teaspoon vanilla
3/4 cup dark chocolate chunks
Dulche de Leche
4 cups whole milk
1 1/4 cups sugar
1/2 teaspoon baking soda
Directions:
For ice cream:
1. In a bowl, beat egg yolks to blend.
2. In a 3- to 4-quart pan over medium-high heat, combine milk, cream, sugar, and coffee beans; stir until sugar is dissolved and mixture is simmering. Remove from heat, cover, and let stand 30 minutes. Pour through a fine strainer into a bowl; discard coffee beans. Rinse pan, return milk mixture to it, and bring to a simmer over low heat.
3. Whisk 1/2 cup of the warm milk mixture into egg yolks; pour yolk mixture into pan. Stir constantly over low heat until mixture is thick enough to coat the back of a spoon, 4 to 6 minutes; do not boil.
4. Pour into a clean bowl and chill, stirring occasionally, until cold, about 2 hours; if desired, cover and chill up to 1 day.
5. Stir rum and vanilla into custard. Freeze mixture in a 1-quart or larger ice cream maker according to manufacturer's directions. While ice cream is still soft, stir in chocolate chunks. Transfer ice cream to an airtight container and freeze until firm, at least 6 hours, or up to 1 week. Scoop into bowls and top with dulce de leche.
For dulche de leche:
In a heavy 5- to 6-quart pan over medium-high heat, stir 4 cups whole milk and 1 1/4 cups sugar until sugar is dissolved and mixture is boiling. Stir in 1/2 teaspoon baking soda. Reduce heat to low and simmer, stirring occasionally with a flexible spatula, until mixture is golden brown and reduced to about 2 cups, about 1 1/2 hours (mine took about 2 1/2 hours on very low heat).
Pour through a fine strainer into a bowl; discard residue. (*I did not have to do this step. Mine was smooth and rich and had no residue.)
Makes 2 cups.
Save
We participate in the Amazon Services LLC Associates Program, an affiliate advertising program designed to provide a means for us to earn fees by linking to Amazon.com and affiliated sites.