Nashville-Style Habanero Hot Chicken from Southern Heat
This hot chicken recipe, Nashville-Style Habanero Hot Chicken, was born out of a hangover and a trip to Prince's the following morning. What better way to cure the hangover than with fatty and spicy food?! From the mild recipe to off the charts hot, we got a lot of heat, but not a lot of flavor throughout the chicken at Prince's. After this visit, we knew we needed a recipe for hot chicken in the cookbook.
This version creates hot chicken that is very flavorful from the spicy crust right down to the bone by using Papa's Hot Sauce (a recipe collaboration between Anthony and one of his longtime cooks known as Papa) and Chef Lamas' special blend of seasonings for the batter. The brining of the chicken followed by a double dipping method for the coating (one time drenching in a mixture of buttermilk and seasonings), along with the addition of the hot sauce (or not, depending on your heat tolerance), creates a moist, tender, and flavorful piece of chicken with a crispy and even coating and flavor to knock your socks off…in a good way.
We might upset those folks in Nashville, but this is the best hot chicken any of us have ever tasted. The variations in the recipe allow you to control how much heat you add, depending on your personal preference. What has been produced is mighty tasty and we'll stack this hot chicken up against the best.
As a word of caution, when you serve and eat hot chicken, especially the spicier versions, be sure to swallow down the fiery bird with a milk-based chaser, like a milkshake. Or do as they do in Nashville (and what we did in the book) and serve the chicken with soft white bread (think Wonder Bread) and a packet of mayonnaise or a side dish with mayonnaise (like Momma's Potato Salad, which is also a recipe in the book) to tone down those spiced up taste buds. At all costs, avoid carbonated beverages, such as Coca Cola. And while an ice-cold beer may sound like the right thing to chug when your mouth is on fire, all it does is add fuel to that fire, so heed this advice and proceed with caution. Also, for added relief, do as Chef Sean Brock suggests and put the TP in the freezer. All good advice for virgin hot chicken eaters.
In addition, when preparing the recipe for Papa's Hot Sauce, make sure you have proper ventilation in your kitchen. The fumes from cooking the habaneros can be overwhelming. Also, avoid putting your face over the simmering pot of sauce to smell the delightful aroma. The recovery from that brief moment could be a painful process.
Nashville-Style Habanero Hot Chicken is just one of the many recipes in Southern Heat: New Southern Cooking Latin Style. We hope you'll enjoy making it as well as Banana Rum Pudding with Toasted Coconut, one of my favorite desserts from the book. For more delicious recipes, you can purchase Southern Heat at Amazon.com.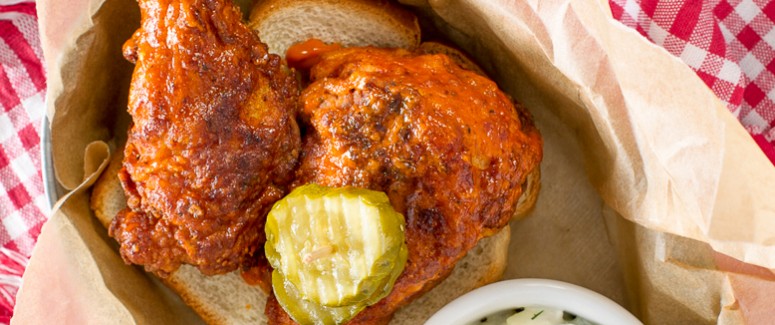 Nashville-Style Habanero Hot Chicken
It was important that the hot chicken in this recipe was more than just hot (like a number of the hot chicken shacks in Nashville) and that each bite was packed with flavor. The brine creates moistness with seasonings that penetrate the meat. The crispy skin is achieved by double-dipping in flour with spices and using a buttermilk base. Papa's Hot Sauce adds another layer of flavor and complexity of heat with a little sweetness. While the chicken is best prepared after 24 hours in the brine, you can leave it as long as 36 to 48 hours for an even hotter version of hot chicken and you can brush more of Papa's Hot Sauce on the chicken before baking to achieve a "real burn your shorts" hot chicken.
How to achieve different levels of heat and spice:
Medium: 24-hour brine and do not brush Papa's Hot Sauce on the chicken before baking.
Hot: 36-hour brine and use Papa's Hot Sauce for light dipping or mop on after finishing in the oven to control heat (do not brush on the chicken prior to baking).
Burn your shorts hot: 48-hour brine and brush Papa's Hot Sauce over the chicken prior to baking.
Note – The recipes in the book were prepared with Diamond Crystals Kosher salt.
Ingredients:
1 whole 3 ½ to 4 pound chicken, washed and cut into 8 pieces


For brine:
2 quarts water
½ cup sugar
¾ cup Kosher salt
4 habaneros, cut in half, with seeds
¼ cup Papa's Famous Hot Sauce (recipe below)


For coating:

3 cups all-purpose flour
4 tablespoons Kosher salt
2 tablespoons Spanish paprika
1 tablespoon ground habanero
1 ½ teaspoons cayenne
1 tablespoon homemade Sazón (To make – blend equal amounts of ground coriander, ground cumin, garlic powder, ground achiote, and kosher salt)
1 tablespoon freshly ground black pepper
1 tablespoon onion powder
1 tablespoon garlic powder
1 teaspoon ground sage
1 teaspoon ground oregano
1 teaspoon celery salt


For buttermilk dredge:

1 quart low-fat buttermilk
1 tablespoon ground habanero
1 ½ teaspoons cayenne
Papa's Famous Hot Sauce, to mop chicken
Garnishes – White bread and housemade pickles


For Papa's Hot Sauce (Makes 1 1/2 to 1 3/4 cups):

3 whole habaneros (1.5 ounces)
1/2 cup organic or homemade vegetable stock
1/2 onion, chopped (1 cup)
4 ½ tablespoons tomato paste
1/2 cup white vinegar
1/2 cup Canola oil
½ teaspoon onion powder
¼ teaspoon garlic powder
1 tablespoon kosher salt
2 tablespoons + 1 teaspoon light brown sugar
1 teaspoon freshly ground black pepper
1 tablespoon minced garlic
Directions:
For brine:
Combine all of the ingredients in a non-reactive pot and bring to a boil, stirring to dissolve sugar and salt. Remove from heat and cool to room temperature and then place pot in the refrigerator. Once brine is cold, add chicken pieces, cover, and brine for 24 hours.
To prepare chicken:
Preheat oven to 350 degrees. In a medium bowl, mix together the flour and spices for coating and then transfer the mixture to a large plastic bag for dredging. In a shallow glass dish, combine buttermilk with spices and whisk to blend well.
When ready to cook chicken, remove from the brine and pat dry with paper towels. Put a couple of pieces at a time in the bag with the flour and spice mixture. Coat well and shake off the excess. Do this for all of the chicken pieces.
Add chicken, a piece at a time to the buttermilk mixture. Drench the pieces well and then put back into plastic bag with flour. Coat well and shake off excess. Repeat until all of the chicken pieces are coated and place them on a wire rack until oil is hot.
In a large cast iron skillet or large Dutch oven, add Canola oil to about 1 1/2 inches (just to cover chicken pieces a little more than half) and heat until 325 degrees. Place chicken skin side down in the pan and fry in batches until golden brown, turning once, for a total of 5 minutes, adjusting heat to keep temperature at 325 degrees.
Remove chicken from the pan and place on a clean rack on baking sheet. If desired, as described above for "Burn your shorts hot," mop each piece of chicken with Papa's Famous Hot Sauce with a pastry brush, lightly covering the crispy skin on top. Finish in the oven for 10 to 15 minutes, or until internal temperature measures 165 degrees in the breast.
Serve chicken with slices of white bread and garnish with pickles. For a little more kick for any heat level as described above, serve with Papa's Famous Hot Sauce on the side.
For Papa's Hot Sauce:
Put all ingredients into a small saucepan and bring to a boil. Stir well and reduce heat, but keep at a rolling simmer for 30 minutes (or longer), until mixture is thick and syrupy, stirring often. The habaneros should be very soft. Cool the mixture and then puree in a Vitamix or blender and transfer to a pint sized container and store covered in the refrigerator. Sauce will hold for several weeks.
Recipe reprinted from Southern Heat: New Southern Cooking Latin Style
Authors Chef Anthony Lamas and Gwen Pratesi
Publisher – The Taunton Press
This content is protected under International Copyright Laws. Pratesi Living provides this content to its readers for their personal use. No part (text or images) may be copied or reproduced, in whole or in part, without the express written permission of PratesiLiving.com. All rights reserved.

We participate in the Amazon Services LLC Associates Program, an affiliate advertising program designed to provide a means for us to earn fees by linking to Amazon.com and affiliated sites.