The Sights and Sounds of Claude Monet's Giverny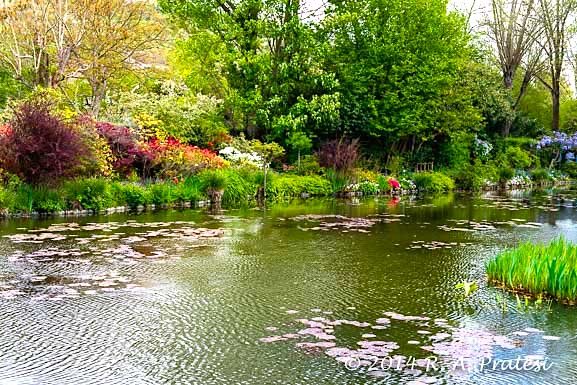 We wanted to share this piece on Giverny since the photographs and video are so beautiful and a celebration of the Impressionistic artist, Claude Monet. Roger wrote this piece on our visit to Giverny last April. As a photographer, the gardens and Monet's home were a delight to photograph. Giverny is spectacular, especially in the spring when everything is in bloom, and the gardens and pond looked just like one of his paintings. If you have never visited Giverny, I hope this is inspiration to travel there soon. Please be sure to watch the video to hear the melodic sounds of the garden and pond to experience it as we did the day we visited.

It was about this time last year that we decided to spend Springtime in Paris and Normandy. What could possibly be better than to stroll the Champs-Élysées, visit the top of the Eiffel Tower at night to see the twinkling lights of Paris below, or to shop the magnificent Galeries Lafeyette? Springtime is also the perfect time of year to visit the charming seaside towns, lush green countryside, and spectacular beaches of Normandy. The flowers are in bloom and the scenery is reminiscent of an artist's painting.
We have taken many trips to Paris and the South of France. This year we wanted to explore Northern France. We chose to take a river cruise from Paris to Normandy along the Seine River with AMAWaterways on board their luxury river ship, the AmaLegro. This trip was to fulfill a bucket list item of visiting the Normandy Beaches. You can read about our visit to some of the towns in Normandy here and here and to the American Cemetery and battlegrounds in this article.
* Be sure to watch the above video in High Definition. You can adjust the settings to 1080p on the wheel to the right.
Beyond the historic beaches of Normandy lies a magnificent countryside that is distinctive in its climate and cuisine. Similar to New England on the East Coast of the United States, Northern France doesn't have the warm Mediterranean climate that we often associate with France, but it does possess something that makes Northern France enchanting. The light.
We participate in the Amazon Services LLC Associates Program, an affiliate advertising program designed to provide a means for us to earn fees by linking to Amazon.com and affiliated sites.