Tennessee Truffles and a Tennessee Corn and Truffle Flan
There are truffières (truffle orchards) in Idaho, Oregon, Washington, California, North Carolina and other states. However, Tom is the man that gets phone calls from all over the world asking him to show what he is doing differently that has created his success. I might even call him The Truffle King.
In case you didn't know this, you just might want to run out and get some of these babies before Valentine's Day. Truffles are considered to be an aphrodisiac due to the aroma that resembles something very sexual. In fact, female pigs are used to hunt truffles in Europe. The smell of the truffle resembles the male swine's sexual scent. I know, TMI…I am just telling you what I have discovered…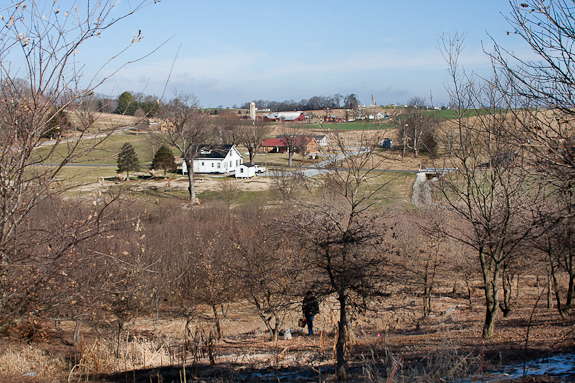 The early season Périgord Truffles have more of a floral and fruity aroma (most men prefer this). However, as they ripen, they take on a more earthy and musky aroma later in the season. This latter "fragrance" tends to be the favorite of most women. Earthy, musky, Valentine's Day…I'm just sayin'. And we are at the right time of the truffle season for that particular characteristic. Can I be more specific?
Tom told us that at the Aspen Food and Wine event in 2008, the Lexus truffle exhibit was the most popular exhibit. They served over 4,000 Truffled Cappuccinos (now that gets me excited!)! At the Pebble Beach Food and Wine event in 2009, the most visited exhibit was where Craig von Foerster (Executive Chef of the Post Ranch Inn in Big Sur, California) was preparing Kobe beef with truffles. There is definitely something about those truffles…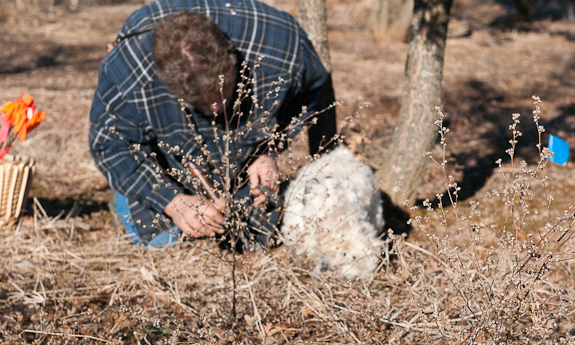 He said that when people would smell some of the truffles that they had on display during these two events, the men always preferred the floral and fruity truffles and the women liked the earthy and musky ones. He said the women even rolled their eyes back in their head from time to time. Okay, I will stop now.
Getting into the truffle business was not entirely foreign for Tom. He grew up on a mushroom farm outside of Chicago. His father grew button mushrooms, which he said are actually quite difficult to grow. Tom also said that button mushrooms are his first love.
Tom received a grant while in graduate studies at Oregon State to write his dissertation, In Vitro Culture and Growth Modeling of Tuber Spp. and Inoculation of hardwoods with T. Melanosporum Ascospores. This is the study of how to grow truffles. I guess this guy knows a thing or two about truffles…do you think?
Throughout his early career, Tom had jobs related more to button mushrooms at both Dole Foods (in Research and Development) and at Monterey Mushrooms (one of the largest mushroom producers in the United States). At that time he was living in California. After getting married, he moved back to Oregon with his wife and started a small mushroom farm.
Eventually, they both decided to go back to their former careers and looked East. His wife landed a great job as a Medical Director at the Greene Valley Developmental Institute in Greeneville, Tennessee, but Tom became the trailing spouse (very common among professional couples in our current culture).
As I have found with many of the interviews I have done with farmers, when there was a change in their life situation they are called back to farming as a way to make a living. That is what Tom did. He said he looked over the hills outside his back door and realized that this terrain and climate (terroir) were very similar to that of the Périgord region in Southern France where the black truffles originate. Voilà! Tom decided to plant some truffle trees using the techniques he developed in his dissertation many years ago!
Tom's truffière has a total of nearly 2,500 truffle trees on approximately eighteen acres which he began planting in 2000. He has four different orchards with a combination of hazelnut trees (which can produce truffles in five to seven years) and oak trees (which typically take up to ten years to produce truffles). There is no real science to successfully growing truffles, but there certainly is a great deal of luck involved.
When asked what Tom did once he planted these trees and had to wait to see if they would start producing truffles, he said "there were a lot of dance recitals and gymnastics" as he played Mr. Mom. He did say that he developed a great relationship with his children because of this time he spent with them. Many people have gotten involved in growing truffles for the romance of it, he said his was out of necessity.
We participate in the Amazon Services LLC Associates Program, an affiliate advertising program designed to provide a means for us to earn fees by linking to Amazon.com and affiliated sites.