Spinach Salad with Spicy Tomato Vinaigrette and a Visit to the Chef's Garden and Wine Cellar at Keswick Hall
A beautiful resort does not live by good wine alone. You have to have outstanding food as well, so naturally, our next interview was with Chef Dean Maupin. You will have to wait for that interview until tomorrow or Saturday. In the meantime, I would like to share with you Chef Maupin's recipe for Spinach Salad with Spicy Tomato Vinaigrette with Hard Cooked Egg and Edwards Bacon that he graciously shared with me.
I have prepared this salad twice and it is fabulous! The dressing is tangy and refreshing and would pair well with many other salads. I thought this recipe would be a nice addition to your dinner menu during these hot summer months.
* I did not have access to Edwards Bacon, but used Coleman Natural Uncured Hickory Smoked Bacon. I can highly recommend that if you want to use a good packaged bacon, rather than something from a local farm, butcher or your own house made bacon.
Enjoy!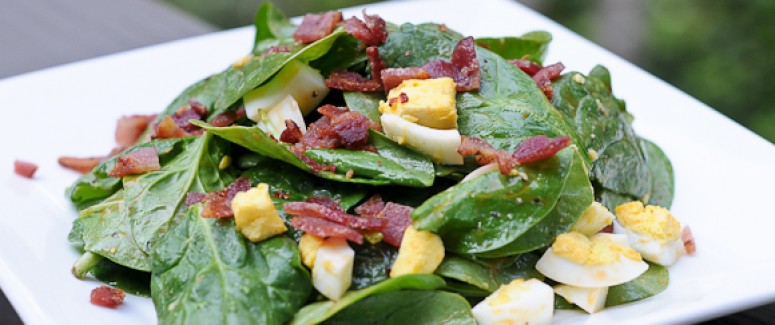 Spinach Salad with Spicy Tomato Vinaigrette with Hard Cooked Egg and Edwards Bacon
Ingredients:
For salad:
8 cups Spinach, tender, young and washed (I used organic baby spinach)
4 Eggs, hard boiled, peeled and crumbled
8 ounces Smokey Bacon, Slab Edwards of Surry, VA, cooked and roughly chopped (I used Coleman Natural Uncured Hickory Smoked Bacon)
For Spicy Tomato Vinaigrette:
1/2 cup Ketchup
1/2 cup Apple Cider Vinegar (I use Spectrum Organic)
1/2 cup Sugar, granulated
1/4 cup Honey (I use local honey)
1 teaspoon Kosher Salt
1 Tablespoon Black Pepper, freshly ground
3/4 cup Blend Oil (90% Canola, 10% Extra Virgin Olive Oil)
Directions:
For Vinaigrette:
In a saucepan over medium heat, gently warm Ketchup, Vinegar, Sugar, and Honey until sugar dissolves. Transfer to a blender or Vitamix, add Salt and Pepper. Turn on blender and slowly add oil as it emulsifies.
To finish salad:
Place the spinach, bacon, hard cooked egg and liberally dress with the spicy tomato vinaigrette. Season with a pinch of salt and enjoy at once.
* You will have plenty of vinaigrette leftover to enjoy on another salad.
Dean Maupin
Executive Chef
Fossett's
Keswick Hall, Virginia
We participate in the Amazon Services LLC Associates Program, an affiliate advertising program designed to provide a means for us to earn fees by linking to Amazon.com and affiliated sites.