Spinach Salad with Spicy Tomato Vinaigrette and a Visit to the Chef's Garden and Wine Cellar at Keswick Hall
We have traveled through many states in the South over the last year searching for some of the great places, farms and people behind our food. One state that we had not been to on our travels, before now, was Virginia. I went to school in Richmond and have visited several cities in Virginia for vacation over the years (Virginia Beach and Williamsburg to name a few), but searching for culinary adventures brought a new perspective to Virginia for this visit.
As you may know, if you are a regular reader of Pratesi Living, our first stop on this road trip was outside of Charlottesville at Keswick Hall in Keswick, Virginia. This area is nestled in the Blue Ridge Mountains and has extremely fertile soil with a moderate climate. Charlottesville is probably best known for Monticello (Thomas Jefferson's home), the University of Virginia and beautiful farm country. It is also known for great food, especially now that Keswick Hall has recently been designated the #1 hotel in North America for food with a score of 97.8 in Condé Nast Traveler's Gold List for 2011.
Keswick Hall graciously arranged for us to meet with most everyone related to food and wine at the property during our visit so that we could get a broader perspective on the area and have a better sense of why this place is so special beyond the obvious beauty and history of the hotel.
Visit with the Head Gardener, Amy Lewis
Amy Lewis, the Head Gardener at Keswick Hall, showed us the gardens on the property and her special project, the Chef's Garden, which she is working on with their Executive Chef Dean Maupin. She said he knows the importance of growing some of their own produce, herbs and specialty items (like edible flowers). They have been working together (since he came on board as Executive Chef last September) to choose and grow the foods he will use in the kitchen. Many of these foods are grown from heirloom seeds (especially the tomatoes and many varieties of cherry tomatoes that Chef Maupin prefers).
Amy said they will occasionally test some things that are not available in the local market and then they will contract for those items with larger growers if the chef is interested in those products. It is a great way for them to work together to maximize their own garden as well as introduce unusual and heirloom plants and produce to their guests.
One of the favorite lettuces that they grow is Tennis Ball Lettuce, which is an heirloom variety and is just a beautiful lettuce. Other favorites in their garden include several types of heirloom beets (Soldier, Golden and Red Ace), Dwarf Gray Sugar Peas and Prickly Seeded Spinach.
Amy says that many chefs talk about using local ingredients, but she feels that this chef really is doing as much as possible to work with the local farmers and the gardeners at the property. She is excited to be able to provide lettuce to the hotel through December with the addition of growing tunnels in their garden.
There has been a vast movement across the country to produce and provide locally grown produce, meats and other proteins to the chefs. We are familiar with several farmers who work with chefs to decide on the crops they will grow for the restaurant and matching the growing cycle to ensure the freshest and most unusual items are available to the chefs.
Visit with the Food and Beverage Director, Scott Meynig
Roger and I are always up for a great bottle of wine with fabulous food, so we were excited to meet with Keswick Hall's Food and Beverage Director, Scott Meynig. Scott is not only very knowledgeable about food and wine (especially Virginia wines and producers), but he also has an incredible sense of humor and we had one heck of a good time with him!
Scott took us on a tour of their vineyard and beautiful new wine cellar (a working cellar) which can be reserved for private dinners for up to 16 people. Before having the event, you meet with the chef and sommelier to choose your entire menu (a 7-course meal) and wine selections for the dinner. It is the perfect way to celebrate a special occasion and get a lot of special attention. 🙂
We also sat on the patio area outside of Fossett's Bar and had a wine tasting with Scott of mostly local wines and a charcuterie and cheese board to compliment the selections. We were very impressed with the local wines and actually chose to have them over other options while we were in Virginia.
Some of our favorites were Edith's Reserve Viognier Virginia, 2009, Barboursville Chardonnay, Virginia 2009 and the Edith's Reserve Petit Verdot Virginia 2009. Viognier and Petit Verdot are two of the grapes that grow particularly well in this area. The views…the food…the wine…the people…can I just move in?
If you are looking for Virginia wine in your local wine store, odds are you won't find it. Virginia consumes most all of the the production from the region. Based on what we tasted, I understand why. I wouldn't let it get away either.
Fossett's has been a Wine Spectator Best of Award Winner 2004-2011, Wine Enthusiast Award of Distinction 2008 Certificate of Recognition and been recognized by the Virginia Wine Board 2011. "Good Wine is a Daily Necessity for me." – Thomas Jefferson. We happen to agree with Mr. Jefferson on that one. 😉
A beautiful resort does not live by good wine alone. You have to have outstanding food as well, so naturally, our next interview was with Chef Dean Maupin. You will have to wait for that interview until tomorrow or Saturday. In the meantime, I would like to share with you Chef Maupin's recipe for Spinach Salad with Spicy Tomato Vinaigrette with Hard Cooked Egg and Edwards Bacon that he graciously shared with me.
I have prepared this salad twice and it is fabulous! The dressing is tangy and refreshing and would pair well with many other salads. I thought this recipe would be a nice addition to your dinner menu during these hot summer months.
* I did not have access to Edwards Bacon, but used Coleman Natural Uncured Hickory Smoked Bacon. I can highly recommend that if you want to use a good packaged bacon, rather than something from a local farm, butcher or your own house made bacon.
Enjoy!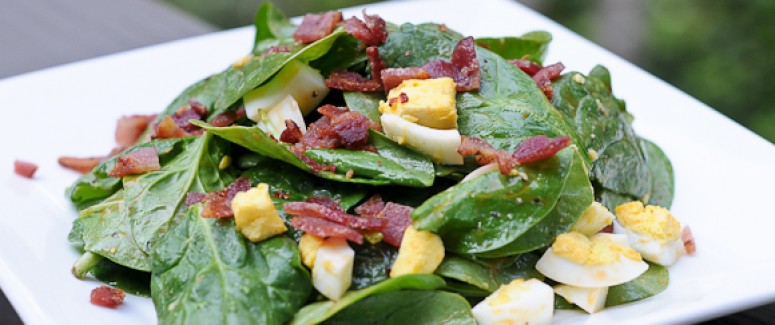 Spinach Salad with Spicy Tomato Vinaigrette with Hard Cooked Egg and Edwards Bacon
Ingredients:
For salad:
8 cups Spinach, tender, young and washed (I used organic baby spinach)
4 Eggs, hard boiled, peeled and crumbled
8 ounces Smokey Bacon, Slab Edwards of Surry, VA, cooked and roughly chopped (I used Coleman Natural Uncured Hickory Smoked Bacon)
For Spicy Tomato Vinaigrette:
1/2 cup Ketchup
1/2 cup Apple Cider Vinegar (I use Spectrum Organic)
1/2 cup Sugar, granulated
1/4 cup Honey (I use local honey)
1 teaspoon Kosher Salt
1 Tablespoon Black Pepper, freshly ground
3/4 cup Blend Oil (90% Canola, 10% Extra Virgin Olive Oil)
Directions:
For Vinaigrette:
In a saucepan over medium heat, gently warm Ketchup, Vinegar, Sugar, and Honey until sugar dissolves. Transfer to a blender or Vitamix, add Salt and Pepper. Turn on blender and slowly add oil as it emulsifies.
To finish salad:
Place the spinach, bacon, hard cooked egg and liberally dress with the spicy tomato vinaigrette. Season with a pinch of salt and enjoy at once.
* You will have plenty of vinaigrette leftover to enjoy on another salad.
Dean Maupin
Executive Chef
Fossett's
Keswick Hall, Virginia