Our Summer Organic Garden Project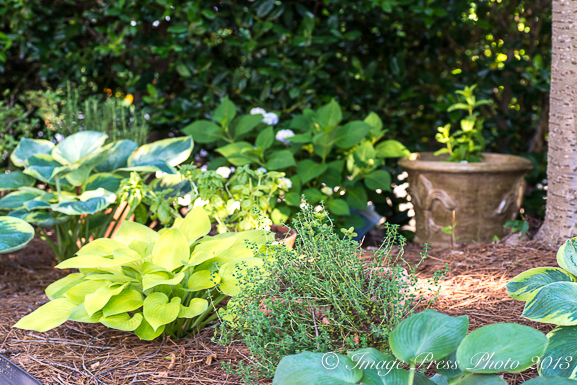 No occupation is so delightful to me as the culture of the earth, and no culture comparable to that of the garden. ~ Thomas Jefferson
Do you remember when you were a child in school and you were asked by your teacher to write about what you did over a holiday weekend or the long summer? That's how we felt about this Memorial Day weekend. We took on a few major house projects, including building a raised bed for a garden. Just like those days when we were in school, I thought I would share with you what we did over the weekend and what we've planted in the garden and in other pots for our Summer Organic Garden Project.
As you may know, we live close to the city of Atlanta. We have a small backyard and have never wanted to take what little space we have away from our dog, Beamer, for a garden. There was also the issue of getting proper sun exposure, watering, and most importantly, we aren't home very often to take care of a garden.
In the past, we have always planted herbs in pots and a few in the ground. Easy to look after and water, they don't require the commitment that a raised bed does. However, last week, we finally decided to do what we had discussed for several years and removed the bushes on one side of our house where the area would get Southern exposure and about seven hours of full sun. Mr. B built an organic garden with cedar wood, fencing, a natural barrier to prevent weeds, and added irrigation on a timing system. We also have netting that we can put over the top when the critters start to visit and enjoy the fruits of our labor. 😉
I spend a lot of time and money shopping for the best produce and herbs I can find, preferably organic and from a local farmer. We support Farmers' Markets whenever possible and will pick our own fruit when it's in season. There is nothing like produce fresh from a garden and growing my own has been something I've always wanted to do.
The produce I would like to grow this time of year requires more space than we have (like squash, melons, and beans), so we knew we'd have to grow more vertical plants like peppers, radishes, and herbs in the garden and plants like tomatoes and spreading herbs in pots to control their growth. Mr. B has created a very nifty irrigation system that will provide the proper amount of water and drainage for the potted plants.
I planted some heirloom herb seeds from Garden In The Koop and as they germinate and grow they will be transplanted primarily to the bed. I also purchased seeds from Monticello and Thomas Jefferson's garden while we were in Virginia last month, so now some of Jefferson's favorite herbs have been planted in the garden and I look forward to comparing them to other varieties we are growing.
The starter plants were purchased from a local organic supplier, Farmer D Organics. The majority of these plants have gone into the raised bed, but a few have been transplanted into pots where we can control the spread of the mature plants. With the late start in the season for the garden, we decided that buying some plants would give us a bit of a head start.
We participate in the Amazon Services LLC Associates Program, an affiliate advertising program designed to provide a means for us to earn fees by linking to Amazon.com and affiliated sites.