How to Smoke Food Indoors – Smoked Scallops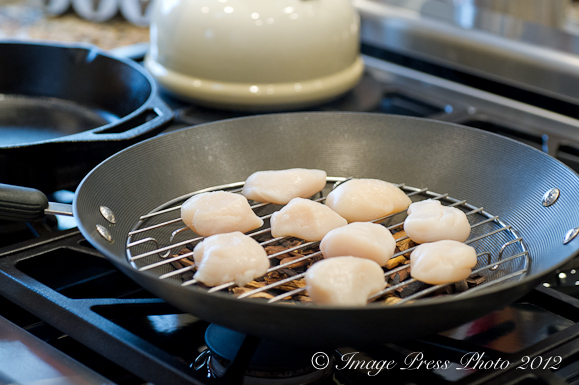 I have been a bit absent as we continue to spend much of our time nursing Beamer back to health. As you may know, our Tibetan Terrier of ten years has come down with Coonhound Paralysis, a rare and debilitating disease. I also have a few announcements to make today which include Beamer and some changes to Bunkycooks.
I have started a blog to document Beamer's recovery from Coonhound Paralysis, Beamer's Corner. For now, it is not searchable on the internet. However, you can see the current updates at Beamer's Corner by clicking on the cute photo of Beamer in goggles on the sidebar to the right or by clicking on the link. Once we are further along in his recovery process I will allow the blog to be searchable so that anyone interested in this disease will be able to learn about our personal situation and fight to bring our boy back to us.
On another note, you may notice a few minor changes to the site. We are in the middle of creating a different look for Bunkycooks to make the site easier to navigate. We hope to have everything implemented by the end of this week.
One of the new additions to Bunkycooks is Cooking Tips. We want to bring you quick and easy cooking tips that will enhance your cooking experience and give you some insight into how professional chefs get their results in the kitchen. There will also be some basic tips that have been learned from my many years of cooking and ones that you may be familiar with, but have not used in a long time. We hope you will enjoy the instruction and short videos.
First up in this series is How to Smoke Food Indoors. We learned this very nifty tip from Executive Chef Colin Bedford during our culinary class at Fearrington House Inn in Fearrington, North Carolina.
Many people think of smoking food as firing up the grill and adding some wood chips. However, this hot smoke technique is limiting in how your foods will cook. By infusing a smoke flavor before baking or searing, you achieve the best of both cooking methods.
How to Smoke Food Indoors – Smoked Scallops
This is an easy way to get a wonderful and subtle smoked flavor into your foods indoors while using the best cooking method to finish the dish. You can use this method for any type of fish or meat. We chose scallops since we prepared them during our culinary class with Chef Bedford. Smoking food indoors is very simple to do (and is far better in taste than that horrid liquid smoke flavor), however, you must have a sufficient ventilation system that forces the air outdoors. Otherwise, you will have a very smelly and smoky home with smoke detectors whaling.
You will also need a pan with a cover that is large enough to accommodate a rack in the bottom with the scallops. I used a covered wok.
Here is a short video to demonstrate the process and the quick and easy steps to smoking your foods indoors:
We participate in the Amazon Services LLC Associates Program, an affiliate advertising program designed to provide a means for us to earn fees by linking to Amazon.com and affiliated sites.