Honey and Sage Skillet Cornbread and a Visit to Green Goddess Farms in Asheville, North Carolin
In addition to beekeeping, Carl and Joan grow all sorts of produce that keeps them busy in the garden. As Joan says "pollination means bounteous crops" and that they have. They grow okra (lots and lots of okra!), Super Marconi Italian green beans (a favorite in our home), Jerusalem artichokes, blueberries, sumac (which the bees love), ginseng, Pokeweed and these incredible loofah sponges I sure didn't know that sponges grow on trees, did you?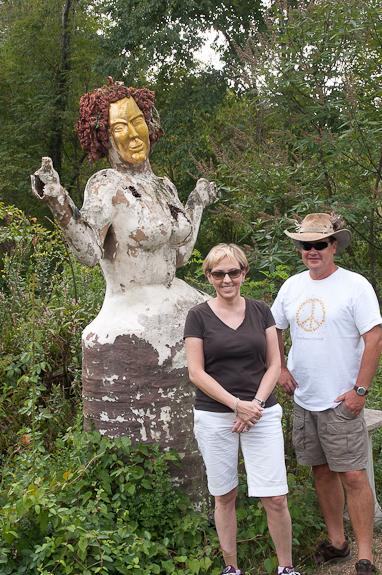 They also have a large number of trees on the farm with edible nuts, including hickory nuts and hard shell almonds (which taste like an almond on steroids). Joan does sell some of the produce, however, most of it is put up for their own use throughout the rest of the year. She is very busy canning, dehydrating and freezing during the summer months.
Thanks to Joan and Carl for their hospitality and for helping us understand more about the bee mystery and honey. We came home with some of their summer and raw honey. As Carl said, honey is perfect straight out of the jar over ice cream, but I wanted to use it in something more savory.


This cornbread is attractive to serve and has just a bit of sweetness. The honey really made a difference in keeping it incredibly moist (unlike most cornbread). It is perfect served with many fall dishes. Be sure to drizzle a bit of honey over the warm cornbread. My goodness…that will knock your socks off!
Since the honey from Green Goddess Farms was good enough to eat right out of the jar, I think that is what I will do with the rest of it!
Sage and Honey Skillet Cornbread
Adapted from Bon Appetit
Serves 8-10
Ingredients:
1 cup cornmeal (preferably whole grain, stone-ground)
1 cup unbleached all purpose flour
1 tablespoon baking powder
1 teaspoon salt
2 teaspoons chopped fresh sage leaves, plus 12 whole fresh sage leaves
1 cup whole milk
1/2 cup honey
1 large egg
Directions:
Preheat oven to 400°F. Heat heavy ten-inch-diameter ovenproof skillet (preferably cast-iron) in oven ten minutes.
Whisk first four ingredients and two teaspoons chopped sage in large bowl to blend. Whisk milk, honey, and egg in medium bowl to blend.
Remove skillet from oven; add one-half cup butter. Swirl until butter is melted. Pour all except two tablespoons butter into egg mixture. Add whole sage leaves to butter in skillet; toss to coat. Arrange leaves over bottom of skillet, spacing apart.
Add egg mixture to cornmeal mixture; stir until just combined (do not overmix). Pour batter over sage leaves in skillet. Bake until browned around edges and tester inserted into center comes out clean, about twenty minutes. Cool in skillet ten minutes. Invert onto platter. If necessary, reposition sage leaves atop cornbread.
Serve warm with butter and drizzle with honey.
We participate in the Amazon Services LLC Associates Program, an affiliate advertising program designed to provide a means for us to earn fees by linking to Amazon.com and affiliated sites.