Chicken Enchiladas for The Daring Cooks Challenge (and stacked they are not!)
I just arrived back home from Los Angeles and Camp Blogaway this evening. I had intended to publish this post last Friday, but internet access was nearly impossible over the last several days, so my thinking is…better late than never! In that case, here is my Daring Cook's post for May!
Just in case you are not familiar with The Daring Cooks, this is a group of food bloggers that prepares the same dish once a month (which is chosen by a fellow food blogger) and then each blogger prepares their own interpretation of the dish. This month's challenge was for Stacked Chicken Enchiladas.
The fact that I am writing this post at all is the "daring" part! If you have been following my blog, you will remember the pre-wedding week and the Cinco de Mayo festivities (including mucho amounts of sangria!). Anyway, I was going to take a hiatus on this month's challenge until I realized how perfect it was for a dinner to feed the masses!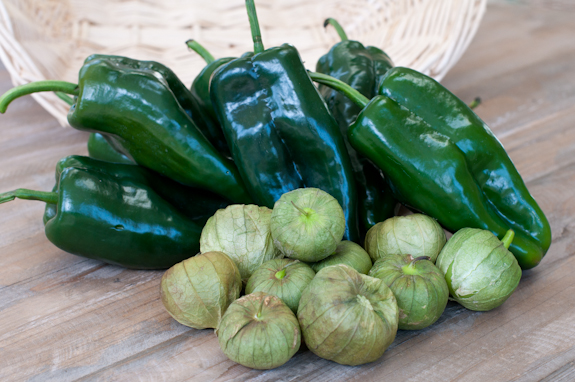 Not only were we making enchiladas in time for the Cinco de Mayo celebration…I could also make these to feed vegetarians and gluten-free guests all at the same time! Now of course, that was not without much stress and aggravation, but I did it!
I have to thank Barbara of Barbara Bakes and Bunnee of Anna+Food for putting together this month's challenge!
May's Daring Cooks Challenge was to create a Mexican dish worthy of a Cinco de Mayo celebration using a homemade enchilada sauce. We've chosen a Stacked Green Chile & Grilled Chicken Enchilada recipe using tomatillos. We recognize that some of you may not have access to fresh or canned tomatillos, or you may have already mastered a tomatillo sauce, so feel free to make any homemade Mexican style sauce that will challenge you.
We have included a recipe for corn tortillas and links to recipes and videos for making corn and flour tortillas. Making tortillas is optional. You are welcome to use any tortilla recipe you'd like, or use your favorite store bought tortillas. Making a homemade Mexican style enchilada sauce is mandatory.
Cinco de Mayo celebrations in the U.S. seem to get bigger and better each year. We don't know if that's because of the increasing Mexican-American population in the U.S. or if it's just a great excuse to have a fiesta with fabulous Mexican food. Either way we hope you'll join us in a little Mexican fiesta for May's Daring Cooks Challenge.
This challenge was to make stacked enchiladas. Well, let me just tell you…that was not happening! These puppies were rolled and put in a casserole with the homemade enchilada sauce and cheese and they were delicious! This dish almost didn't happen after my hubby spilled a container of the enchilada sauce all over the kitchen floor after rooting around in the fridge for strawberries, but I prevailed! We had less sauce than I originally made for the dish (which was incredibly tasty, by the way), but it all turned out just fine. That is what cheese is for!
I also had to prepare a portion of the enchilada sauce with water instead of veggie broth and make part of the enchiladas with black beans instead of chicken. Can you see why I might not have stacked enchiladas??? Anyway, I stood in the kitchen frying up the tortillas (not homemade), drinking sangria and stirring the dulche de leche for our dessert while my guests entertained my neighbors by partying on our back deck. It was quite the evening and the food was really good!!!
We participate in the Amazon Services LLC Associates Program, an affiliate advertising program designed to provide a means for us to earn fees by linking to Amazon.com and affiliated sites.