Wild Eggs, Kalamity Katie's Border Benedict and a James Beard Award Finalist
As you may know, Louisville, Kentucky is one of our favorite cities to visit. We love the people, the historic hotels, the surrounding area with stunning rolling hills and horse farms and of course, the food. Obviously, a little bourbon thrown in for good measure doesn't hurt either. 🙂
When we were invited to breakfast while in Louisville last year to meet with a local business and their chef, I was not sure what to expect. We are always in search of finding the best chefs, special destinations or unique stories to bring to our readers, so I agreed. I had never met an "Eggsecutive" Chef before. This was definitely a first and proved to be an "eggcellent" surprise!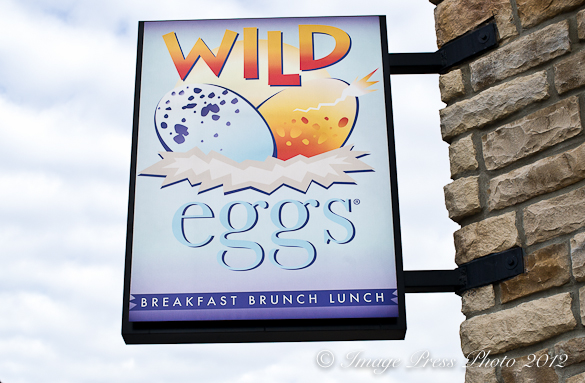 While I generally do not write about breakfast or lunch experiences, I changed my mind after meeting with J.J. Kingery, the "Eggsecutive" Chef at Wild Eggs. This concept of an upscale breakfast and lunch restaurant is creative and fun. The morning culinary creations from their menu exude the same amount of passion, level of preparation and presentation that you would expect from a quality dinner experience. With the Kentucky Derby just around the corner, I thought you might appreciate a suggestion or two for places to nosh while in Louisville. For those that can't make the trip, I hope this may give you some new inspiration for your own home breakfast cooking.
While there is certainly standard breakfast fare offered, I would suggest that you be adventurous and order one of the more creative selections. One of the most beautifully plated and intriguing dishes on the menu was Leggo My Egg Roll. This version of sushi included smoked salmon, scallion, cucumber, roasted red pepper, cream cheese, tagarashi seasoning and thinly sliced cooked egg roll inside toasted nori. It is served with soy ponzu, wasabi aioli, pickled ginger, kimchi and toasted sesame seeds. It was almost too pretty to eat.
Something more fitting for the Kentucky Derby season might be the Kelsey KY Brown with toasted sourdough bread, roasted turkey, applewood smoked bacon, diced tomato, white cheddar Mornay, a fried egg and smoked paprika.
One dish that was tempting to order was Clementine's Creamsicle Crepes: warm crepes filled with sweetened cream cheese and orange marmalade, Grand Marnier Suzette sauce, toasted macadamia nuts, fresh orange supremes, whipped cream, powdered sugar and cinnamon. However, in the best interest of my waistline, I chose Jimmy the Greek Fritatta. This dish combined eggs with oven-dried tomato, fresh spinach, onion, basil pesto, feta cheese and pepperocini peppers. All of these creations are prepared with the freshest ingredients and are beautifully plated.
I am not a breakfast person. Loading up on hefty portions of rich foods to start my day makes me want to crawl back under the covers for a nap. In fact, many days while working on the computer, I have totally bypassed breakfast (but not the two cups of coffee) and am suddenly deciding on my lunch options. However, I could definitely get excited about breakfast at Wild Eggs.
We participate in the Amazon Services LLC Associates Program, an affiliate advertising program designed to provide a means for us to earn fees by linking to Amazon.com and affiliated sites.