Watermelon Martinis – Oh, sweet sugar baby!
I keep hearing how busy everyone is this Summer and how quickly time has flown by. Heck, school is already back in session in many places! Where did the Summer go??
If you follow Bunkycooks, you will know that our crazy lives have been no exception this Summer! I have been planning Food Blog Forum Atlanta along with Jaden Hair (of Steamy Kitchen) and Diane Cu of (White on Rice Couple) for the event in September. It will be an awesome seminar with lots of invaluable information for food bloggers and professionals, so plan to come! We also have a kick-off event and after party scheduled, so you will have time to drink wine and eat for free network with all of your friends!
I have also been traveling, meeting lots of nifty folks and writing the On the Road with Bunkycooks series (with lots more to come!). I have been interviewing awesome chefs and preserving many of the fruits and vegetables that are so incredible this Summer. I know I will be ecstatic to have them in my freezer or basement when all of the produce looks gross is not very fresh and is definitely not local at the markets this Winter.
Don't get me wrong, I am complaining I am not complaining. I am totally exhausted having a blast, but some days you just need to do something simple, kick back and relax! Those times call for an alcoholic beverage a nice, refreshing Summertime cocktail!
This cute little watermelon in the picture is called a Sugar Baby. I picked this up at the Cashiers Farmers Market to nibble on because it is so sweet and good (I was also there to visit BB the pig!). However, after all of these long busy days, I decided that a martini was a better option than eating the watermelon all by itself!
When I made my cantaloupe martini (which was also very tasty), I did not strain the juice and preferred it that way. There was a nice consistency to the drink and it did not separate. The watermelon juice, however, needs to be strained because there is so much liquid in the fruit (that's why they call it watermelon). If you don't strain the juice, it will definitely separate after you make the drink and not look so hot be so photogenic. Of course, if you are drinking fast and not taking pictures, you might not care if you strain the juice! I'm just sayin'...
Since this particular watermelon is very sweet, this recipe was perfect. You might have to adjust and add some simple syrup or a liquor of some type if your watermelon is not as ripe and sweet. I also prefer my martinis less sweet and focus more on using a good vodka. The sugar rim also adds a touch of sweetness, so sit back, relax, bottoms up and enjoy the rest of your Summer!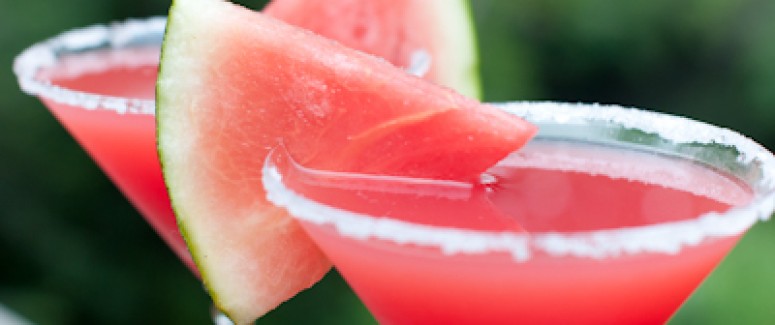 Watermelon Martinis
Serves 2-3 (depending on the size of your glasses!)
Ingredients:
1 cup strained sweet, fresh watermelon juice (I used almost one-third of the Sugar Baby Watermelon)
1/2 cup good vodka (Grey Goose or Ketel One)
Squeeze of fresh lime juice
Ice cubes
Sugar to rim the glasses
Watermelon slices for garnish
Directions:
Dip rims of martini glasses in a little water and then immediately dip into sugar. Set aside. Quickly mix ice, watermelon juice, vodka and fresh lime juice in a cocktail shaker. Only shake two or three times or else it will become watery. You just want to mix and chill the drink. Pour into sugar rimmed glasses. Garnish with watermelon slices.
We participate in the Amazon Services LLC Associates Program, an affiliate advertising program designed to provide a means for us to earn fees by linking to Amazon.com and affiliated sites.