The Palms Hotel and Spa in Miami, Essensia Restaurant and a recipe for Passion Fruit Panna Cotta
We loved the combination of fresh and bright flavors, highlighted by all of the local and seasonal ingredients. Chef Magana prepared a tasting of appetizers for us, including an Ahi Tuna Stack and Coffee Crusted Natural Beef Rib Eye Satay. Each bite of these appetizers took us on a culinary journey with unusual spices and textures.
Mr. B had the Seafood Paella for the main course that was dramatic in its presentation. It was not your typical Paella. I chose grilled Cobia, a mild white fish (also known as Black Kingfish, Black Salmon or Ling). U.S. farmed Cobia is listed as a "Best Choice" by the Monterey Bay Aquarium Seafood Watch for sustainability. The fish was perfectly prepared and served with grilled white and green asparagus.
We spoke at length with Chef Magana about the philosophy of the restaurant and the menu. Magana told us that the new menu is entirely focused on organic and seasonal ingredients. They will adjust the menu accordingly as the seasons change. This new menu will extend beyond Essensia as the entire hotel will use only organic ingredients in their food preparations. This will include everything from room service to banquet menus.
While somewhat of a challenge to implement throughout the entire hotel due to the expense and availability of certain products, Chef Magana says that guests are willing to pay the additional costs when their food tastes so much better, is fresher and know the care taken in selecting these quality ingredients.
Chef Magana prepared a tasting of desserts for us to end the evening. We loved the tropical flavors that we experienced in several of these desserts. They were refreshing and light. The Passion Fruit Panna Cotta, in particular, was wonderfully flavored with a Tropical Fruit Salsa, Basil Syrup and Flaxseed Crostini. The hotel has graciously shared their recipe for the Panna Cotta for Bunkycooks' readers.
We look forward to another visit to The Palms Hotel and Spa. This premier hotel with its culinary philosophy and delightfully prepared fresh and organic food and is a perfect fit for what we like to share and experience with our guests on our culinary tours. South Florida is one of our preferred destinations for our On The Road culinary adventures.
Thank you so much to Chef Magana and the staff at The Palms Hotel and Spa. We thoroughly enjoyed our stay and our dining experience at Esssensia.
Disclosure – The Palms Hotel and Spa provided a media package for our stay in order to evaluate the hotel for a potential culinary tour.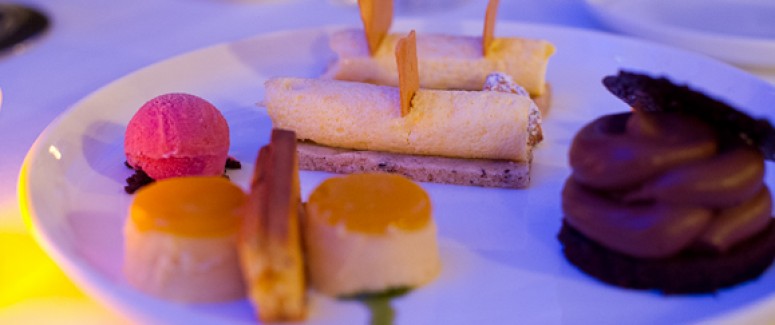 Passion Fruit Panna Cotta
This elegant dessert is complimented by a Tropical Fruit Salsa, Basil Syrup and Flaxseed Crostini.
Ingredients:
For Panna Cotta:
Top layer:
1 teaspoon powdered gelatin
2 teaspoons cold water
6 ounces Passion Fruit juice
Bottom layer:
16 ounces heavy cream
12 ounces milk
12 ounces Passion Fruit juice
3/4 cup sugar
1 ounce cold water
1 tablespoon powdered gelatin
For Flaxseed Crostini:
2 cups sugar
4 each eggs
4 each egg whites
4 ounces canola oil
2 ounces butter, melted
7 ounces sour cream
1 3/4 cups cornmeal
1 cup flour
1 tablespoon baking powder
1/2 teaspoon salt
2 ounces flaxseeds
For Fruit Salsa:
Simple syrup:
1 cup water
1 cup sugar
Fruit Salsa:
1 mango, diced
1/2 papaya, diced
Zest and juice of 1 lime
For Basil Syrup:
1 cup fresh basil leaves
1/2 cup fresh spinach
1/2 cup simple syrup
Directions:
For Panna Cotta:

Top layer:
1. Sprinkle 1 teaspoon gelatin on cold water and stir until gelatin is completely moistened. Heat 6 ounces passion fruit juice until warm, add gelatin/water and stir until dissolved. Pour this mixture into the ramekins, dividing evenly. Carefully place in refrigerator to set, about 30 minutes.
Bottom layer:
1. Sprinkle gelatin on cold water, stir until gelatin is completely moistened. Set aside.
Heat cream and sugar until it steams. Remove from heat. Add gelatin, stir until dissolved, then add milk and juice. Pour through a fine chinois. Pour into the ramekins (on top of the top layer) and chill at least 4 hours or overnight.

Serve in ramekins, or dip them in hot water and unmold.

For Flaxseed Crostini:
1. Preheat oven to 350 degrees.

2. Whip sugar, eggs, and whites until thick. Add oil, butter, and sour cream. Stir in dry ingredients.

2. Bake in a 9" x 9" pan, sprayed with nonstick coating, or lined with foil at 350 degrees, about 25 minutes.

4. Chill until completely cold. Slice into 1/4-inch slices, 4-inch long, or any length you prefer. Brush each slice with a little butter, and bake at 350 until toasted on bottom, about 15 minutes. Turn over, and bake 5 more minutes. When cool, put in airtight container so they stay crispy.

For Fruit Salsa:
Simple Syrup:
1. Heat 1 cup water and 1 cup sugar, bring to boil and chill.
Salsa:
1. Add the zest and juice of 1 lime to the diced mango and papaya, and pour simple syrup over to cover. When serving, strain fruit before plating.

For Basil Syrup:
1. Blanch basil and spinach in boiling water, immediately remove and place in ice water. Squeeze out all water and put in blender with 1/2 cup simple syrup. Blend for a few minutes, until bright green. Strain and chill.

Reserve left over simple syrup, if any, for another use.

Recipe courtesy of Essensia
The Palms Hotel and Spa
Miami, Florida

i

We participate in the Amazon Services LLC Associates Program, an affiliate advertising program designed to provide a means for us to earn fees by linking to Amazon.com and affiliated sites.