The Fifth Annual Gourmet & Grapes Weekend at The Sanctuary on Kiawah Island Benefitting MUSC Hollings Cancer Center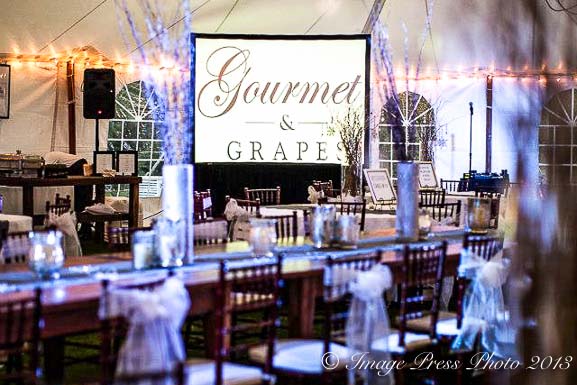 When the Japanese mend broken objects, they aggrandize the damage by filling the cracks with gold. They believe that when something's suffered damage and has a history it becomes more beautiful. ~ Barbara Bloom
*Please see the note at the bottom about the photographs in this article.
Cancer has played a large part in many lives, including our own over the past eight years. It was January 2005 when we received the news that Mr. B had colon cancer and eventually learned it was Stage 4 cancer. It turned our world upside down and altered it in ways we could never have imagined. I most likely would not have started this blog nor would I have been writing about this cancer benefit event at Kiawah Island had it not been for the impact cancer has had on our lives. There is no question that this disease brought fear and drastic changes with the diagnosis and treatments, however, it has also introduced us to a new life filled with great friends and unique opportunities to impact others.
One of these opportunities came when we recently attended the Fifth Annual Gourmet & Grapes Weekend on Kiawah Island. It is the only fundraiser in the Lowcountry which brings together renowned Southern chefs and global winemakers to raise money for cancer research. It is a weekend of impressive food, excellent wines, celebrity chefs, and many good times, all to benefit the Medical University of South Carolina (MUSC) Hollings Cancer Center's clinical trials program. Hosted by The Sanctuary Hotel at the beautiful Kiawah Island Golf Resort, this is becoming one of the Southeast's premier culinary events and all proceeds go to a cause near and dear to us, cancer research.
The Gourmet & Grapes weekend kicks off Friday evening with a black-tie affair at the elegant Ocean Room at The Sanctuary. This year's guest chef for the dinner, Justin Bogle, who has received two stars from the Michelin Guide as former executive chef of GILT in New York City, prepared a exquisite three-course menu incorporating local ingredients. Expertly prepared and beautifully plated, the courses were paired with luscious wines from Tuscan winemaker, Lionello Marchesi, who was quite the charmer.
One of the highlights of this dinner was a roasted swordfish that was line-caught off the coast of South Carolina and brought in from the boat at Cherry Point Seafood that morning. The exceptional quality and taste of that swordfish was a real testament to the importance of using the freshest, locally harvested, and sustainable seafood.
Chef Bogle, when speaking at the end of the dinner, mentioned the cancer struggles of some of the people who are closest to him, and what an honor it was to participate in the event.
We participate in the Amazon Services LLC Associates Program, an affiliate advertising program designed to provide a means for us to earn fees by linking to Amazon.com and affiliated sites.