Strawberry Tart with a Shortbread Crust
As you may know (if you read my last post about Strawberry Freezer Jam), I purchased quite a few strawberries recently. Those strawberries managed to find their way into jam, cereal bowls, freezer bags as well as a beautiful strawberry tart. The few that were left were quickly popped into our mouths before someone else did the same. I had purchased these berries right before our house guests arrived last week. Needless to say, with a house full of people, they all disappeared.
Just days before I purchased the strawberries, I received a parcel in the mail from Walkers. In case you are not familiar with the company, they are the rather famous shortbread folks from Scotland. We all love to get food goodies in the mail (especially buttery rich shortbread), so I was excited to be able to possibly combine the shortbread with the strawberries (which of course, I did, but we will get to that later).
A week before my parcel arrived, I was asked if I would be interested in reviewing some of the Walkers products, so I chose several varieties of their shortbread to try. I was very familiar with their products, but had not purchased any in awhile (because we would eat the whole box in one sitting if we had them in our house on a regular basis). They have been making shortbread since 1898, so I think they know a thing or two about the stuff. In addition, they have a product line that has expanded over the years. They now have the Duchy Line, which is all organic (available only outside the U.S.) and the Weight Watcher's line (also available outside the U.S.), which is what I should have asked to sample after eating some of this tart.
Their shortbread is a delightful treat with a cup of tea or a big glass of cold milk. They are buttery and rich and are made with only several ingredients. There are no artificial flavors or preservatives in their products. That is why they taste so close to being homemade. The Walker family has kept it that way from the beginning and they still continue to manufacture their shortbread in the village of Aberlour in the Scottish Highlands to this day. By keeping to the original recipe and family traditions, it may be why they have won several awards, including their 4th time winning the Queen's Award for Enterprise for International Trade.
I have to admit that my favorites are the little mini shortbread cookies (both plain and chocolate chip). I feel like I can have something really decadent in just a little bite, so that I don't feel guilty about eating a whole cookie.
I decided to take a couple of the packages of the shortbread and play around a little bit. If you know me, you know I am crazy like that I like doing that. I just couldn't leave perfectly good shortbread alone.
I crushed up several up the packages and combined them with melted butter to make a crust (like they needed more butter mixed in with them). The crust became pliable like a pastry dough and patted into the tart pan perfectly. I baked it for just a few minutes to brown it slightly and cooled it before filling. Those two ingredients alone made a beautiful shortbread crust.
I would suggest that if you would just like the crust on the bottom of the pan to use half the amount of shortbread and butter. Be sure to have a firmer filling (such as a no-bake cheesecake filling) that will hold its shape when unmolded. I used a pastry cream, so I needed the crust all around.
I topped the pastry cream with the beautiful strawberries and a little bit of melted currant jelly with a pastry brush. There you have it – Strawberry Tart with a Shortbread Crust! The buttery crust along with the vanilla flavor from the pastry cream and the sweetness of the strawberries was delectable.
Be sure to serve the tart the same day as you make it. The pastry cream does not hold well into the next day. That means you need to share with guests or eat the whole thing yourself the day you make it (just kidding, that would be gross).
Just in case you were wondering, I was not paid to do this review. I will work for shortbread cookies. 🙂 There was also a giveaway that has ended.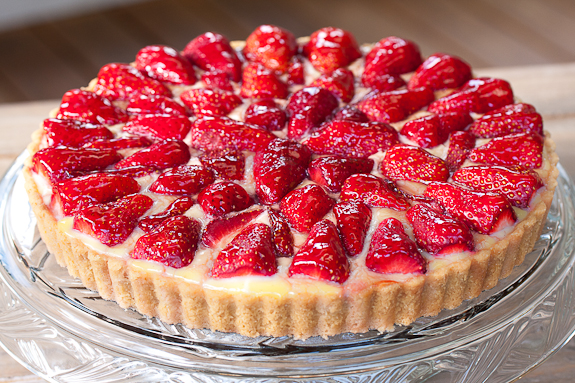 Strawberry Tart with a Shortbread Crust
Ingredients:
Crust
2 boxes (5.3 oz. each) of Walker's Shortbread (either regular or the rounds), crushed
6 tablespoons unsalted butter, melted
Pastry cream
2 1/4 cups whole milk
6 large egg yolks, at room temperature
2/3 cup sugar
1/3 cup cornstarch
1 vanilla bean, split lengthwise
Topping and glaze
1/3 cup currant jelly
1 qt. strawberries, washed, hulled and halved (you may not need them all)
Directions:
For crust:
Preheat oven to 350 degrees. Place shortbread crumbs and melted butter in a food processor. Process until mixture begins to come together. Turn into a 10-inch tart pan with a removable bottom. Pat the mixture evenly into the bottom of the pan and up the sides. As you continue to press the crumbs, the mixture will become almost like a dough. Press evenly around the pan, using a squared off mixing cup to get a nice even crust. * Place tart pan on a cookie sheet to catch any butter that may escape from the tart pan. Bake for 5-8 minutes in the middle of preheated oven, just until lightly brown. The crust will darken slightly as it cools. Remove carefully to a wire rack. Cool completely.
For pastry cream: (adapted from The Culinary Institute of America)
In medium bowl, whisk together 1/2 cup milk, egg yolks, 1/3 cup sugar, and cornstarch. Place remaining 1 3/4 cups milk in a heavy medium saucepan. Scrape in seeds from vanilla bean; add pod. Sprinkle remaining 1/3 cup sugar over, letting sugar sink undisturbed to bottom. Set pan over moderate heat and bring to simmer without stirring.
Whisk hot milk mixture, then gradually whisk into egg yolk mixture. Return to saucepan over moderate heat and cook, whisking constantly, until pastry cream simmers and thickens, about 1 minute. Remove from heat, discard vanilla pod, and whisk cream until smooth. Transfer to bowl and press plastic wrap directly onto surface. Chill until cold, about 4 hours.
For glaze:
Right before assembling tart, melt currant jelly in a small saucepan over low heat. Let cool slightly before using.
To assemble tart:
Spread chilled pastry cream over tart shell. You will use the entire amount. Carefully place strawberry halves over pastry cream in a decorative pattern. Be careful not to push them down into the pastry cream. Lightly glaze the strawberries with the currant jelly glaze using a pastry brush.
Chill the tart for an hour or two. Carefully separate the bottom of the tart pan from the side pan and unmold the tart. Serve immediately.
Save
We participate in the Amazon Services LLC Associates Program, an affiliate advertising program designed to provide a means for us to earn fees by linking to Amazon.com and affiliated sites.