Review of America's Test Kitchen's The Complete Plant Based Cookbook
This post may contain affiliate links to products we use and love.
This is the second article in a series of reviews of America's Test Kitchen's new cookbooks. If you read my first piece, you will know that I have been a long-time follower and fan of America's Test Kitchen and Cook's Illustrated. I trust their recipes and have had great success when preparing them. I also appreciate the time, effort, and science involved in making ingredients harmoniously come together in a dish. It's truly an art to make a recipe work time and time again.
When I was offered to review this book, I was very interested in trying the recipes since we've been trying to put more plant-based meals into our diet. As you probably know, plant-based diets have been all the rage lately, with everyone trying to eat less meat and include more plant proteins in their meals. Just take a look at all of the meat substitutes in the refrigerated and freezer cases. In our home, we're currently eating a Mediterranean-style diet with less red meat and more seafood and vegetables, but sometimes, you need inspiration. Many plant-based recipes I have tried in the past weren't something I would make again. Some were not very satisfying, and others weren't good enough, so I wanted to see if this book could change my mind.
The Complete Plant Based Cookbook
The Complete Plant Based Cookbook gives recommendations and ideas for stocking a plant-based pantry and includes successful substitutions for things we're used to and okay with eating, but others may want to remove from their diet, such as egg whites. Did you know that the liquid from canned chickpeas, known as aquafaba, can be whipped like egg whites or give texture and structure to dishes and baked goods? Cashews have also become a widespread substitution for cream and dairy products in vegan recipes, but how about using jackfruit in place of shredded chicken or pork? This book helps build a plant-based meal from menu suggestions and what they call "Building-Block Recipes" that will be your go-to if you're only eating plant-based foods. These recipes include ways to prepare a fish sauce substitute and make a "Cheez" Sauce.
However, if you're like me and want to add more veggies and eat less meat, and are fine with the other ingredients (like fish sauce), there are options for almost all of the recipes to use dairy products, such as regular milk instead of soy milk and regular cheese instead of vegan substitutes. If you're counting calories, carbs, and proteins, nutritional information is included at the back of the book. With everything from baked goods, to salads and soups, to main dishes and desserts, this book could become a bible for people on serious plant-based diets and others wanting to eat healthy meals without meat.
Creamy Curried Cauliflower Soup
We enjoyed many recipes from this cookbook, including a few salad dressing recipes, but I'm going to give cauliflower the spotlight for my two top choices. The first recipe is Creamy Curried Cauliflower Soup. I love Asian-inspired flavors with curry, ginger, lime juice, and coconut milk (my husband and I both do), so I first opted to prepare this. And it did not disappoint. It was rich and creamy (blended in the Wolf Gourmet High-Performance Blender). I liked the contrast in texture with the browned florets to finish the soup, along with the crunchy green onions and drizzle of oil. It was elegant and satisfying enough for a meal, so we didn't have anything other than a green salad to go along with it. This soup would also make a lovely starter for a dinner party with an Asian-themed menu.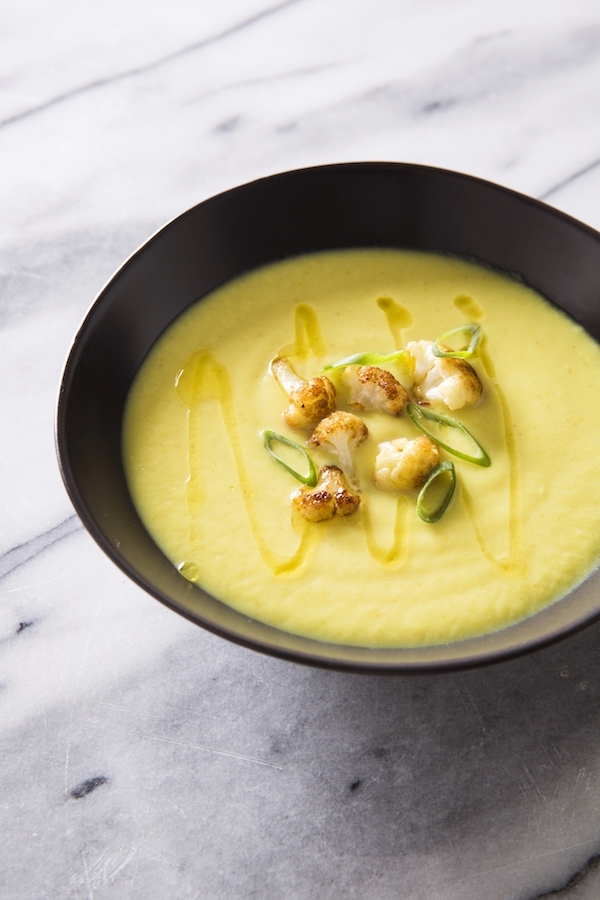 Campanelle with Roasted Cauliflower, Garlic, and Walnuts
Everyone loves a good pasta dish, so I also chose to include Campanelle with Roasted Cauliflower, Garlic, and Walnuts. I enjoyed the textures and flavors in this dish with the curly pasta, roasted heads of garlic (two whole heads), and roasted cauliflower. Both of these roasting techniques lent an extraordinary but subtle sweetness to the pasta. A lot was going on in the final dish that's finished with chopped parsley, freshly squeezed lemon juice, and chopped toasted walnuts. We used extra grated cheese to finish, using imported Parmigiano Reggiano in place of the vegan substitute. I also added more red pepper flakes than suggested, as we prefer dishes with a bit of kick. The pasta was a beautiful and satisfying dish, and we didn't miss the meat at all. It would be a lovely recipe to serve to guests for a main or side dish. It also held well and made excellent leftovers the next day.
I decided to share the pasta recipe from The Complete Plant Based Cookbook since the dish checked many boxes. We love pasta and cauliflower and all of the crunch and flavors that are added at the end. I hope this recipe inspires you to add more satisfying plant-based dishes like this to your diet.
Enjoy!
Campanelle with Roasted Cauliflower, Garlic, and Walnuts
Prep Time: 15 minutes

Cook Time: 1 hour

Total Time: 1 hour 15 minutes

Why This RecipeWorks Bold, rustic flavors and hearty textures make this an exceptionally satisfying pasta meal. High-heat roasting transformed the mild-mannered cauliflower into an intensely flavored, sweetly nutty foil for the campanelle, a ruffled cone-shaped pasta that looks a little like a flower. For golden cauliflower, we sliced the head into wedges to create maximum surface area while leaving the core and florets intact. Tossing the wedges with a little sugar jump-started browning; preheating the baking sheet (accomplished while roasting the garlic) before arranging the cauliflower on it also helped to develop lots of color. For the sauce, we roasted two whole heads of garlic and tempered its bold assertiveness with Parmesan (vegan or dairy). We stirred in parsley and topped each serving with a handful of crunchy toasted walnuts.
Ingredients
2 garlic heads
1 teaspoon plus 6 tablespoons extra-virgin olive oil, divided
1 head cauliflower (2 pounds), cut into 8 equal wedges
1 teaspoon table salt, plus salt for cooking pasta
¼ teaspoon pepper
¼ teaspoon sugar
2 tablespoons lemon juice, plus extra for seasoning
¼ teaspoon red pepper flakes
1 pound campanelle
½ cup Vegan Parmesan Substitute or grated dairy Parmesan cheese
1 tablespoon chopped fresh parsley
¼ cup walnuts, toasted and chopped coarse
Instructions
1. Adjust oven rack to middle position, place large
rimmed baking sheet on rack, and heat oven to 500 degrees. Remove outer papery skins from garlic; cut top quarters of heads and discard. Place garlic heads, cut side up, in center of 12-inch square of aluminum foil and drizzle each with 1/2 teaspoon oil. Wrap garlic heads tightly in foil. Place packet on oven rack next to baking sheet and roast until garlic is very tender, about 40 minutes.



2. While garlic roasts, combine cauliflower wedges, 2 tablespoons oil, salt, pepper, and sugar in bowl; rub gently to distribute oil and seasonings. Remove baking sheet from oven and carefully lay cauliflower wedges cut side down on hot -baking sheet. Roast cauliflower until well browned and tender, 20 to 25 minutes.





3. Transfer cauliflower and garlic packet to cutting
board and let cool slightly, about 10 minutes. Once cool enough to handle, cut cauliflower into 1/2‑inch pieces and unwrap garlic. Gently squeeze garlic cloves from skin into medium bowl, and mash smooth with fork. Stir in lemon juice and pepper flakes, then slowly whisk in remaining 1/4 cup oil.





4. Meanwhile, bring 4 quarts water to boil in large
pot. Add pasta and 1 tablespoon salt and cook, stirring often, until al dente. Reserve 1 cup cooking water, then drain pasta and return it to pot. Add chopped cauliflower, garlic sauce, vegan Parmesan substitute, parsley, and 1/4 cup reserved cooking water and toss to combine. Adjust consistency with remaining reserved 3/4 cup cooking water as needed and season with salt, pepper, and extra lemon juice to taste. Sprinkle individual portions with walnuts and serve.








Notes
Reprinted with permission from The Complete Plant Based Cookbook - America's Test Kitchen

Note – All images are courtesy of America's Test Kitchen
This content is protected under International Copyright Laws. Pratesi Living provides this content to its readers for their personal use. No part (text or images) may be copied or reproduced, in whole or in part, without the express written permission of PratesiLiving.com. All rights reserved.
Disclosure – I partnered with America's Test Kitchen to receive copies of these books to review. I was not compensated to write this post, and the opinions expressed regarding the books and recipes are my own.
We participate in the Amazon Services LLC Associates Program, an affiliate advertising program designed to provide a means for us to earn fees by linking to Amazon.com and affiliated sites.