Mosaic Cheesecake from The Cookie Dough Lover's Cookbook and Eggless Chocolate Chip Cookie Dough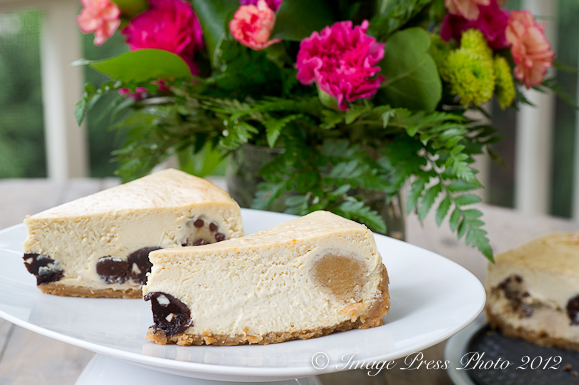 I was recently invited to review a new cookbook, The Cookie Dough Lover's Handbook, by Lindsay Landis. Of course I said yes since Lindsay is my web designer for Bunkycooks. She is both creative and a talented baker, so I was curious to take a peek at her very first cookbook.
While I am not a cookie dough fanatic, Lindsay obviously is since she wrote a whole book about it! She has found some ingenious ways to incorporate cookie dough into baked goods, breakfast fare and desserts. Boring breakfast routines are livened up by her recipe for Belgian Cookie Dough Waffles with Chocolate Whipped Cream and traditional desserts, like Crème Brûlée, are updated with the addition of cookie dough. One of my favorite recipes is for her mini dessert, Cookie Dough Mousse Shooters.
Lindsay's recipe for cookie dough is raw, but it is egg-free, so you can eat it right from the bowl with no worries. You may decide to just enjoy the cookie dough and never get to the recipes. 😉
I like the layout of the cookbook and enjoyed reading through Lindsay's personal notes on the recipes, her cooking tips and suggestions. The photographs, taken by Lindsay, are just as pretty as the ones on her blog she writes with her husband Taylor, Love and Olive Oil.
I chose to make the Mosaic Cheesecake from the book. While some of the recipes are a bit quicker to prepare, this one was more time intensive.
Yes, it is prepared much the same way as a traditional cheesecake, however, there are cookie dough surprises in three different flavors all throughout the cheesecake. When you cut into the cheesecake, you can see the three different types of balls of cookie dough. One basic recipe of cookie dough is split in to three separate bowls where you add peanut butter to one, mini chocolate chips to another and finally, cocoa and mini white chocolate chips to the last batch.
I used organic creamy peanut butter, Vahlrona cocoa powder and chopped Ghirardelli white chocolate in place of the mini white chocolate chips (that the recipe calls for), since I could not find them. You roll the dough into balls approximately three-quarters of an inch in diameter and freeze them while you prepare the filling.
Vanilla wafers take the place of the traditional graham cracker crust in this cheesecake. Brown sugar gives the creamy cheesecake filling a slight hint of butterscoth flavor. The real difference, as I mentioned above, is when you cut the cheesecake, there are cookie dough balls that appear in each and every slice. You randomly place them in the filling two different times so that you will hopefully have a bite of each flavor of cookie dough in your piece of cheesecake.
If you are a cookie dough lover, then this cookbook is for you! I must admit that the only other cookie dough anything I have had before this cheesecake was ice cream (and yes, there are a few recipes for variations on cookie dough ice cream in this book).
Out of courtesy to Lindsay and the publisher, I am not printing the recipe for the cheesecake, however, I am able to share Lindsay's recipe for her basic eggless cookie dough. There is a link below to purchase The Cookie Dough Lover's Cookbook, available through Amazon.
Eggless Chocolate Chip Cookie Dough
Ingredients:
1/2 cup (1 stick) unsalted butter, room temperature
1/4 cup granulated sugar
1/2 cup light brown sugar, packed
2 tablespoons milk or cream
1/2 teaspoon vanilla extract
1 1/4 cups all-purpose flour
1/4 teaspoon salt
1/2 cup mini semisweet chocolate chips
Directions:
In a large bowl beat butter and sugars with an electric mixer on medium speed until light and fluffy, 2 to 3 minutes. Mix in milk and vanilla. Stir in flour and salt and mix on low speed (or by hand) until incorporated. Stir in chocolate chips.
Dough can be enjoyed immediately or stored, covered or in an airtight container, in the refrigerator for up to 3 days.
Reprinted with express permission from
The Cookie Dough Lover's Cookbook
Lindsay Landis
We participate in the Amazon Services LLC Associates Program, an affiliate advertising program designed to provide a means for us to earn fees by linking to Amazon.com and affiliated sites.