Creamy Cauliflower Soup
I am partial to French cooking and always have been. I will choose dishes like Coq au Vin or Boeuf Bourguignon when entertaining, especially during this time of year. They are hearty one pot dishes that satisfy the soul and the belly on these dreary winter days. They are also tried and true and I know how they will turn out each and every time I make them.
This recipe for Cauliflower Soup has now been added to my list of French favorites for entertaining. While I made it for an afternoon lunch, this soup is elegant enough to be served as a first course for a dinner party and a prelude to one of the French classics, like Coq au Vin.
The recipe is from Dorie Greenspan's Around My french Table. I have had great success with her recipes from this cookbook, and this soup did not disappoint. While very creamy, this soup contains no cream. The luscious texture is achieved by pureeing the soup in a blender. Dorie suggests straining it for an even silkier texture if you use a food processor or immersion blender when pureeing.
There are any number of garnishes that you can use to dress up this soup. Suggested are drizzles of Extra-virgin olive oil or walnut oil, grated Parmesan cheese, crushed toasted walnuts, a dollop of Crème Fraîche, caviar or shaved truffles.
I chose to make some homemade French Bread Croutons as a garnish for the soup because I liked the idea of the buttery crispness with the creaminess of the Cauliflower Soup. In addition, we had a beautiful piece of a Black Périgord Truffle from Tennessee Truffles in the freezer which we brought out for this special soup. It added a lovely earthiness to the soup and another level of flavor combined with the crunchy texture of the buttery croutons. A simple drizzle of good truffle oil would give you a similar flavor profile.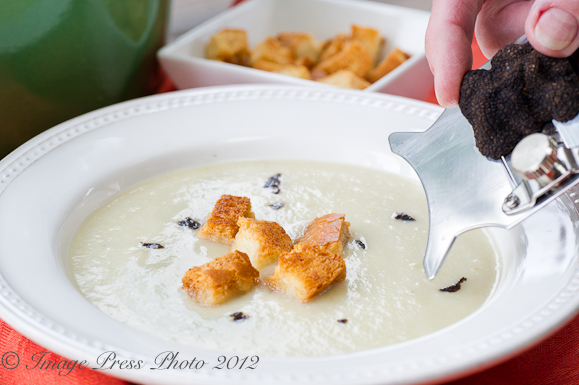 I love finding recipes that work and have great flavors without having to change them up quite a bit. This is one such recipe that creates great flavors with simple, easy to find ingredients. I used organic vegetables and organic chicken broth in this recipe. Organic celery has a much stronger celery flavor and was quite noticeable in this soup. If you use organic celery, you might want to adjust the amount you use if you prefer a milder celery flavor. The recipe calls for three celery stalks, so you may only want to use two if using organic celery.
This soup can also be made with vegetable broth if you are a vegetarian or prefer that option. I liked the combination of cauliflower and chicken broth and would suggest making it that way, if possible. If you use a vegetable broth, a homemade version with a delicate flavor would be best so that it does not overwhelm the soup.
Enjoy!
Creamy Cauliflower Soup Sans Cream
This soup is a perfect starter or first course for a dinner party. Puree in a blender for the smoothest texture. You can also strain the soup for a more elegant finish.
Ingredients:
1 tablespoon olive oil
1 tablespoon unsalted butter
2 Vidalia, Spanish, or large yellow onions (about 3/4 pound), coarsely chopped
2 garlic cloves, split, germ removed, and thinly sliced
3 celery stalks, trimmed and thinly sliced
2 thyme sprigs, leaves only
Salt and freshly ground white pepper
1 head cauliflower, leaves removed, broken into florets (discard the tough core)
6 cups chicken or vegetable broth
Optional Toppings:
Extra-virgin olive oil or walnut oil
Grated Parmesan or Comte cheese
Crushed toasted walnuts
Creme fraiche or sour cream
Caviar
Shaved truffles
Directions:
1. Put the olive oil and butter in a large Dutch oven or soup pot and warm over low heat. When the butter is melted, add the onions, garlic, celery, thyme, 1/2 teaspoon salt, and a few grinds of white pepper. Stir until all the ingredients glisten with oil and butter, then cover the pot and cook slowly, stirring often, for 20 minutes.
2. Toss the cauliflower into the pot and pour in the broth. Bring to a boil, reduce the heat so that the broth simmers gently, and cook, uncovered, for another 20 minutes, or until the cauliflower is very soft.
3. Puree the soup in batches in blender or food processor; or use an immersion blender. this soup is best when it is very smooth, so if you think it needs it, push it through a stainer. (If you use a standard blender, this shouldn't be necessary.) Taste for salt and pepper. * Dorie likes hers with a good bit of pepper.
4. Serve plain or garnished with a topping of your choice.
Recipe is courtesy of Around My French Table
Dorie Greenspan
* All content on this site is copyrighted and all rights are reserved by Bunkycooks, On The Road culinary adventures, Image Press Photo and Riverbed Productions. No content, written, photos or videos may be reproduced in whole or in part without express written permission. Use the Contact form on the top of the Home Page to address any questions or requests.

We participate in the Amazon Services LLC Associates Program, an affiliate advertising program designed to provide a means for us to earn fees by linking to Amazon.com and affiliated sites.