Chicken Enchiladas for The Daring Cooks Challenge (and stacked they are not!)
I just arrived back home from Los Angeles and Camp Blogaway this evening. I had intended to publish this post last Friday, but internet access was nearly impossible over the last several days, so my thinking is…better late than never! In that case, here is my Daring Cook's post for May!
Just in case you are not familiar with The Daring Cooks, this is a group of food bloggers that prepares the same dish once a month (which is chosen by a fellow food blogger) and then each blogger prepares their own interpretation of the dish. This month's challenge was for Stacked Chicken Enchiladas.
The fact that I am writing this post at all is the "daring" part! If you have been following my blog, you will remember the pre-wedding week and the Cinco de Mayo festivities (including mucho amounts of sangria!). Anyway, I was going to take a hiatus on this month's challenge until I realized how perfect it was for a dinner to feed the masses!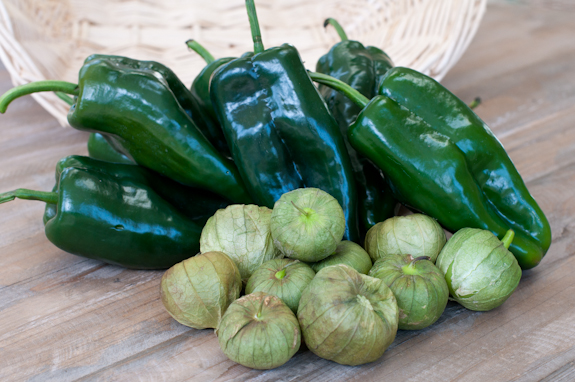 Not only were we making enchiladas in time for the Cinco de Mayo celebration…I could also make these to feed vegetarians and gluten-free guests all at the same time! Now of course, that was not without much stress and aggravation, but I did it!
I have to thank Barbara of Barbara Bakes and Bunnee of Anna+Food for putting together this month's challenge!
May's Daring Cooks Challenge was to create a Mexican dish worthy of a Cinco de Mayo celebration using a homemade enchilada sauce. We've chosen a Stacked Green Chile & Grilled Chicken Enchilada recipe using tomatillos. We recognize that some of you may not have access to fresh or canned tomatillos, or you may have already mastered a tomatillo sauce, so feel free to make any homemade Mexican style sauce that will challenge you.
We have included a recipe for corn tortillas and links to recipes and videos for making corn and flour tortillas. Making tortillas is optional. You are welcome to use any tortilla recipe you'd like, or use your favorite store bought tortillas. Making a homemade Mexican style enchilada sauce is mandatory.
Cinco de Mayo celebrations in the U.S. seem to get bigger and better each year. We don't know if that's because of the increasing Mexican-American population in the U.S. or if it's just a great excuse to have a fiesta with fabulous Mexican food. Either way we hope you'll join us in a little Mexican fiesta for May's Daring Cooks Challenge.
This challenge was to make stacked enchiladas. Well, let me just tell you…that was not happening! These puppies were rolled and put in a casserole with the homemade enchilada sauce and cheese and they were delicious! This dish almost didn't happen after my hubby spilled a container of the enchilada sauce all over the kitchen floor after rooting around in the fridge for strawberries, but I prevailed! We had less sauce than I originally made for the dish (which was incredibly tasty, by the way), but it all turned out just fine. That is what cheese is for!
I also had to prepare a portion of the enchilada sauce with water instead of veggie broth and make part of the enchiladas with black beans instead of chicken. Can you see why I might not have stacked enchiladas??? Anyway, I stood in the kitchen frying up the tortillas (not homemade), drinking sangria and stirring the dulche de leche for our dessert while my guests entertained my neighbors by partying on our back deck. It was quite the evening and the food was really good!!!
I had never made enchilada sauce until I prepared this dish. The tomatillos are pretty weird to cook, but it was all incredibly good with very few ingredients. I was truly amazed at the flavors of the enchiladas, especially when we were missing some of the sauce. I am sure that roasting the peppers and grilling the chicken with some spices added to the great flavors.
I did not taste the black bean (vegetarian version) of the dish, but if it was anything like the chicken enchiladas, it was very tasty! I used white cornmeal tortillas. It tasted very much like authentic Mexican food to me and nothing like what we get in some restaurants.
My sauce was pretty hot because I used Poblano peppers instead of Anaheim chilies (the chilies that were called for in the recipe). It did mellow as it cooked (sort of like I do with some sangria!) and was really delicious when mixed with everything else. By the way, do not chop these chilies with no gloves (as I did…) I had some hot little hands for a while after I did. Just because they don't bite at first doesn't mean they aren't vicious!!
We really liked sour cream as an accompaniment to the enchiladas. It cooled down some of the flavors and added a different texture.
My changes to the recipe are in the printable version below. I doubled all of the ingredients for the enchiladas since I was feeding a crowd. I have made the adjustments to cook this entirely with chicken and not as a vegetarian dish (as I did). This was so good, I will be making this again! (Or else I had too much sangria and didn't know any better!)
Chicken Enchiladas
Ingredients:
Chiles
3 pounds fresh Poblano chilies
Canola oil
Chile sauce
1 lb. fresh Tomatillos, peel, remove stems
8 cups low-sodium chicken broth
2 cloves garlic, minced
1 1/4 teaspoons dried oregano
1 tsp Kosher salt (add more to taste)
1/2 tsp freshly ground black pepper (add more to taste)
4 tablespoons cornstarch (dissolve in 4 tablespoons water, for thickening)
Hot sauce, your favorite, optional (I used a bit of Cholula)
Chicken and enchiladas
4 boneless chicken breasts (you can also use bone-in chicken breasts or thighs)
3 tablespoons Olive oil or Canola Oil
Cajun Seasoning mix or Kosher salt and pepper
20 small white corn tortillas (5-6 inch)
Canola oil for frying
1 lb. grated Mexican four-cheese blend (Kraft)
Sour cream, for garnish
Cilantro for garnish, chopped and sprinkled, optional
Directions:
Roasting Fresh Chiles:
1. Coat each chile with a little canola oil. If you are doing only a couple chiles, using the gas stove works. For larger batches (as in this recipe), grilling or broiling is faster. *I broiled mine in the oven.
2. Lay the oiled chiles on the grill or baking sheet (line pan with foil for simpler clean-up). Place the grill or broil close to the element, turning the chiles so they char evenly. They should be black and blistered. This takes 5-10 minutes total or even longer, depending on your broiler element.
3. As they are completely charred (they will probably not all be done at once), remove them to a bowl and cover with plastic, or close up in a paper bag. Let them rest until they are cool.
4. Open the chile and remove the seeds. Turn the chile skin side up and with a paring knife, scrape away the skin. Sometimes it just pulls right off, sometimes you really have to scrape it.
5. DO NOT RINSE!
6. Chop the chiles.
Green Chile Sauce:
1. Put a medium saucepan of water on to boil and remove the papery outer skin from the tomatillos. Boil the tomatillos until soft, 5 to 10 minutes. You can also grill the tomatillos until soft. *I boiled mine for about 8 minutes.
2. Drain and puree in a blender or food processor.
3. Return the tomatillos to the saucepan along with the chicken broth, chopped green chiles, oregano, garlic, salt and pepper.
4. Bring to a boil over medium-high heat and then reduce the heat and simmer for 10 minutes.
5. Add the cornstarch/water mixture and stir well. Simmer, stirring occasionally, until the sauce is thickened and reduced to 4-5 cups, another 10-15 minutes. *I cooked mine a little longer to reduce the sauce and blend the flavors.
6. Adjust seasonings and add hot sauce if you want a little more heat.
Grilling Chicken and Preparing Enchiladas:
1. Preheat oven to 425 degrees (for baking enchiladas).
2. Heat a gas grill to medium high or prepare a charcoal grill to medium hot. Coat the chicken with olive oil and season well Cajun Seasoning mix (that is what I used) or with salt and pepper.
3. Grill the chicken until just cooked through, 4-5 minutes a side for boneless chicken breasts.
4. Cool and then slice into thin strips or shred.
5. In a small skillet, heat 3 tablespoons oil over medium-high heat until very hot. Dip the edge of a tortilla into the oil to check – it should sizzle immediately.
6. Using tongs, put a tortilla into the pan and cook until soft and lightly brown on each side, about 15-20 seconds per side (at the most).
7. Drain on paper towels.
8. Add oil as needed and continue until all tortillas are done.
9. In a lightly oiled 13 x9 inch baking dish (and a 7 x 9 inch baking dish), place approximately one half of the enchilada sauce in the bottom of the dishes.
10. Put a couple pieces of chicken and a tablespoon or two of cheese in each tortilla. Roll up and place in casserole dishes.
11. Continue until all the chicken is used and slightly more than half of the grated cheese has been used for the enchiladas. You should be able to fill both casserole dishes with the rolled enchiladas.
12. Cover both casseroles with the remaining enchilada sauce and sprinkle with the rest of the cheese.
13. Cover casseroles with aluminum foil and bake until sauce begins to thicken and cheese is melting (about 20 minutes). Uncover casseroles. Continue to bake until dishes are bubbling and cheese is slightly browned, approximately 5 minutes. You can also pop the casseroles under the broiler to brown the cheese. Be careful not to get the cheese too brown.
14. Let the casseroles sit for 5 minutes. Serve with sour cream and chopped cilantro.
Share
Save
Save