Canyon Ranch – Tucson, Arizona
Leaving our busy and hurried world back in Georgia, that is continuously filled with an abundance of heavy food, drink, far too much computer time, and little physical activity, we emerged from Canyon Ranch and our two weeks in Arizona energized and on a mission to make some changes at home which we have already implemented.
My meeting with Steve, the fitness instructor and personal trainer at the Wellness Center at Canyon Ranch, made me rethink what little exercise I was doing at home. Steve's suggestion to ride a bike and put less stress on my joints was something I knew I should be incorporating into a workout routine, but hadn't. While bicycle riding is generally not my thing, it is a good way to get outdoors and incorporate the benefits of fresh air while exercising, so guess what, I took his advice. Mr. B and I now have our own bicycles and we also purchased an indoor exercise bike to ride when the weather is not conducive to outdoor cycling. Every step counts.
Sometimes we need to step back and refocus on the things that really matter and take a break from our normal everyday routine. Most people travel to far away places in search of extraordinary sightseeing opportunities, to learn about different cultures, dine on excellent food, enjoy fine wines, experience unique adventures, or soul search for something more spiritual in their lives. They venture to someplace different which exposes them to new choices. What we often fail to realize is that those things can often be found not too far from home.
If you are not able to travel to Arizona and need a little break and some revitalizing in your own life, Canyon Ranch has several locations in the United States and one of them may be very close to you. They also offer a unique Canyon Ranch experience at their SpaClub on several luxury cruise ship lines.
One of our favorite dishes prepared at Canyon Ranch was the Grilled Chicken Enchiladas during the Lunch and Learn cooking demo with Chef Shawn Brisby. Each serving (2 enchiladas) contains just 420 calories, has excellent flavor, and is quite satisfying. In fact, we could have shared the plate and had just one enchilada per person. This version is not weighted down with lots of heavy sauces, but rather has a very fresh taste that lets the ingredients shine through.
Roasting the tomatoes for the sauce gives them a nice depth of flavor. As you'll find with many of the Canyon Ranch recipes, there are ways to prepare foods that will take the place of traditional methods where you would normally add various fats or calorie laden ingredients to achieve great taste. As always, be sure to use the best ingredients you can find and choose organic and local, if possible. This is always important to the final outcome of the dish.
I look forward to sharing the rest of our trip through Arizona. You can relive some of our experiences on Twitter and see the photos on Instagram with the hashtag #ChasingArizona and get the rest of the story in future Bunkycooks articles. Come along for the ride, we know you are going to enjoy this experience. It was one of our favorite adventures.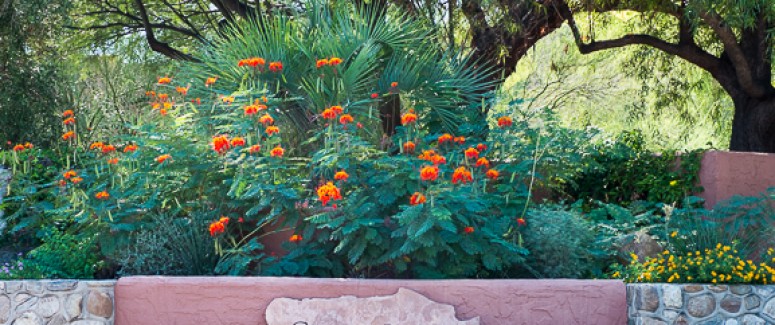 Grilled Chicken Enchiladas
My suggestions – For a more traditional enchilada, you can substitute corn tortillas for the whole-wheat flour tortillas. If you like a hotter and spicier dish, try adding a little chipotle en adobo to the sauce. Chef Brisby said to be sure to use regular cheddar cheese (and not low-fat) cheese in the recipe. This is one place where you don't want to skimp on the fat.
Ingredients:
Enchilada Sauce:
1 Tablespoon olive oil
16 Roma tomatoes, quartered
1 medium onion, sliced
6 cloves garlic, peeled
2 teaspoons chili powder
2 teaspoons ground cumin
1/2 teaspoon salt
1/4 teaspoon pepper
For chicken and enchiladas:
1 teaspoon paprika
1 teaspoon chili powder
1 teaspoon ground cumin
1 teaspoon olive oil
2 teaspoons water
4 boneless, skinless chicken breast halves (about 3 oz each), fat trimmed
8 small (about 6-inch) whole-wheat flour tortillas
8 ounces shredded cheddar cheese
1/2 cup diced green chile (Anaheim chile, fresh or canned)
Fresh salsa or Pico de Gallo, for garnish (optional)
Directions:
For sauce:
Preheat oven to 400°F. Lightly coat a baking sheet with oil. Place tomatoes, onion and garlic on baking sheet. Roast 15 minutes or until onion and garlic turn golden brown. While the vegetables are roasting, start preparing the enchiladas (see below). Remove vegetables from oven. Cool. Place in a blender along with chili powder, cumin, salt, and pepper and puree until smooth. Set aside. * Add a little water, if necessary, to slightly thin the sauce.
For the enchiladas:
Combine paprika, cumin, and chili powder in a small bowl. Add oil and 2 teaspoons water and mix to form a paste. Pat all of spice paste on chicken. Grill or broil chicken 3 to 5 minutes on each side or until juices run clear when pierced with a fork. Cool and slice each breast into long strips (about 3/4 inches wide and 4 inches long). Lay tortillas on a flat surface. Place 3 chicken strips, 2 Tablespoons cheese, and 2 Tablespoons green chile on each tortilla. Roll and place in a 9″ x 13″ baking pan. Cover with sauce. Sprinkle with any remaining cheddar cheese. Reduce oven heat to 350°F. Cook enchiladas 15 to 20 minutes or until sauce is bubbly. Serve immediately with salsa or Pico de Gallo, if desired.
Recipe courtesy of Canyon Ranch
* Disclosure – Canyon Ranch provided a media package for our visit. I was not asked to write any articles about my stay and have in no way been compensated. The opinions expressed regarding our experience are my own.
Note – A number of these photos in the article were taken with an iPhone and are watermarked as such.
This content is protected under International Copyright Laws. Bunkycooks provides this content to its readers for their personal use. No part (text or images) may be copied or reproduced, in whole or in part, without the express written permission of bunkycooks.com. All rights reserved.
We participate in the Amazon Services LLC Associates Program, an affiliate advertising program designed to provide a means for us to earn fees by linking to Amazon.com and affiliated sites.