Apple-Cream Cheese Bundt Cake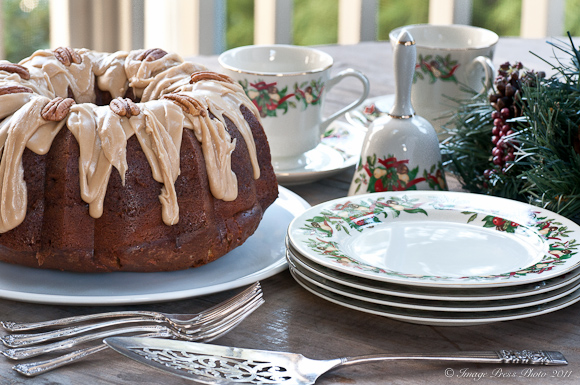 There are very few cakes that I can say we have enjoyed to the very last slice. Most cakes are quite tasty the first time or two that you have them, but for me, they get kind of boring. It's the same old cake and frosting over and over again.
This Apple-Cream Cheese Bundt cake was very different. There was enough going on texturally and taste wise to keep us interested until the very last piece!
The flavors are delightful with fruit from the apples and applesauce, butterscotch from the praline frosting and the subtle cheesy flavor from the cream cheese swirl throughout the cake. The cake itself was incredibly moist and yet, the outside had just a bit of a crunch from browning.
This cake had it all for us. I made it to take for Thanksgiving dinner at our neighbor's house and it was a wonderful ending to our meal. The flavors are perfect for the holidays and it makes such a beautiful presentation when entertaining.
The incredible moistness (that lasted for an entire week) comes from fresh chopped apples, applesauce and oil. Be sure to store it in a cake carrier and keep it tightly sealed in the refrigerator. That is, of course, if you have any left after you first serve it! 😉
This is a very large cake and was made in a 14-cup Bundt pan. The one I found was an anniversary edition from Williams-Sonoma. The cake is a bit time intensive to make, but so worth the effort!
Apple-Cream Cheese Bundt Cake
This recipe was a real winner! It is a perfect dessert for the holidays.
Ingredients:
For Cream Cheese Filling:
1 (8-oz.) package cream cheese, softened
1/4 cup butter, softened
1/2 cup granulated sugar
1 large egg
2 tablespoons all-purpose flour
1 teaspoon vanilla extract
For Apple Cake Batter:
1 cup finely chopped pecans
3 cups unbleached all-purpose flour
1 cup granulated sugar
1 cup firmly packed light brown sugar
2 teaspoons ground cinnamon
1 teaspoon salt
1 teaspoon baking soda
1 teaspoon ground nutmeg
1/2 teaspoon ground allspice
3 large eggs, lightly beaten
3/4 cup canola oil
3/4 cup applesauce (I used unsweetened)
1 teaspoon vanilla extract
3 cups peeled and finely chopped Gala apples (about 1 1/2 lb.)
For Praline Frosting:
1/2 cup firmly packed light brown sugar
1/4 cup butter
3 tablespoons milk
1 teaspoon vanilla extract
1 cup powdered sugar
Additional whole pecans for decoration
Directions:
For Cream Cheese Filling:
1. Beat first 3 ingredients at medium speed with an electric mixer until blended and smooth. Add egg, flour, and vanilla; beat just until blended.
For Apple Cake:
1. Preheat oven to 350º. Bake pecans in a shallow pan 8 to 10 minutes or until toasted and fragrant, stirring halfway through. Stir together 3 cups flour and next 7 ingredients in a large bowl; stir in eggs and next 3 ingredients, stirring just until dry ingredients are moistened. Stir in apples and pecans.
2. Spoon two-thirds of apple mixture into a greased and floured 14-cup Bundt pan. Spoon Cream Cheese Filling over apple mixture, leaving a 1-inch border around edges of pan. Swirl filling through apple mixture using a paring knife. Spoon remaining apple mixture over Cream Cheese Filling.
3. Bake at 350º for 1 hour to 1 hour and 15 minutes or until a long wooden pick inserted in center comes out clean. Cool cake in pan on a wire rack 15 minutes; remove from pan to wire rack, and cool completely (about 2 hours).
For Praline Frosting:
1. Bring 1/2 cup brown sugar, 1/4 cup butter, and 3 Tbsp. milk to a boil in a 2-qt. saucepan over medium heat, whisking constantly; boil 1 minute, whisking constantly. Remove from heat; stir in vanilla. Gradually whisk in powdered sugar until smooth; stir gently 3 to 5 minutes or until mixture begins to cool and thickens slightly. Pour immediately over cooled cake.
Southern Living
September 2011
We participate in the Amazon Services LLC Associates Program, an affiliate advertising program designed to provide a means for us to earn fees by linking to Amazon.com and affiliated sites.