Seafood Pasta with Vodka Sauce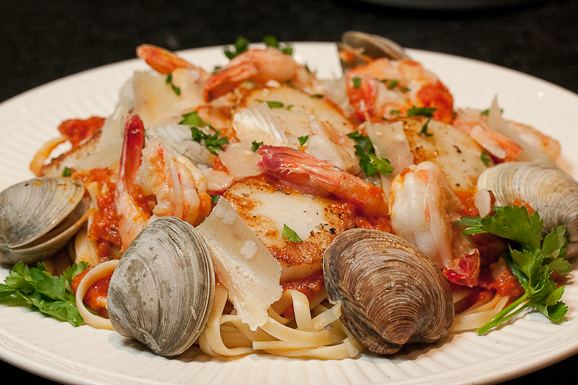 Everybody needs a break in the kitchen when it comes to dinner some evenings. It seems that it's even worse working from home as the day gets away and then suddenly we're looking at each other wondering what's for dinner most evenings!
While we're not fans of processed foods, there is one product that I will use when supper time rolls around and I'm in a bind. It's prepared pasta sauce. I know it's easy to make your own and I do, but we really like the flavor of La Famiglia DelGrosso sauces. They use real ingredients, are minimally processed, gluten free, non-GMO, and contain no added sugar, so that's pretty impressive for a prepared product.
This simple, but flavorful recipe will make preparing a seafood pasta dish a little less daunting by using their Uncle Joe's Vodka Celebration Sauce. It may be our favorite sauce that they make.
As you may remember, one of my very first posts was about another DelGrosso sauce (Aunt Mary Ann's Sunday Marinara). That post still gets lots of views because Michael DelGrosso (he's the VP with the family business) posted a link to my blog on their Facebook page several years ago. I wrote about their sauce because we had picked up a jar in the store and were just amazed at how incredible it was for a prepared product. It truly is almost as good as you or your momma would make.
My hubby said this recipe was far better than anything we have had in most restaurants (and I agree). The shrimp, scallops and clams were all freshly prepared and then added on top of the pasta. You can go ahead and toss everything together to serve it, but we had to take a photo and wanted the seafood to show.
The hubs also pulled out a delightful bottle of Italian wine since a good Italian dish deserves an excellent bottle of Italian wine.
When you're looking for an impressive and quick weeknight dinner or even a special occasion meal, remember to try this recipe for seafood pasta.
Buon Appetito!
Save
We participate in the Amazon Services LLC Associates Program, an affiliate advertising program designed to provide a means for us to earn fees by linking to Amazon.com and affiliated sites.