Grand Marnier Steamed Pudding
This month's Daring Baker's Challenge was hosted by Esther from The Lilac Kitchen. For those readers that are not familiar with the Daring Baker's Challenge, this is a monthly event that I participate in with other food bloggers. It is "top secret" until we all do our posts at the end of the month. This is the second month that I have participated in the challenge.
The April challenge called for us to make a steamed pudding, which is a very traditional British dish (especially if you include suet for a savory pie)! You could prepare either a sweet pudding or a savory pudding. There were several recipes and options, depending on your tastes or dietary preferences (and suet was definitely not on our list of edible options!), so I prepared a sweet pudding.
The traditional preparation method for preparing a steamed pudding is to steam the pudding in a large pot on the stove. I did not have any pudding molds or cylinder shaped baking vessels that the puddings are traditionally prepared in, so I would have ended up with a pudding baked in a mixing bowl or a souffle dish and I did not think that would be very attractive! Therefore, I decided to prepare a steamed pudding with a bit of a twist!
Steamed puddings can also be prepared by baking them in the oven in a hot water bath. Although this is not the traditional British method of cooking the puddings, this is similar to preparing them on the stove top as they are both covered and steamed. The cooking time is cut considerably when the pudding is baked in the oven (and I thought I was going to have an hour or two to relax before having to deal with this dessert!).
I was very interested in making a lighter version of a steamed pudding and serve it in individual molds, which I could do by preparing the pudding in the oven. The other benefit to this was that I could give some of the dessert away in a neat little packages to neighbors that need dessert more than we do!
After much searching for steamed pudding recipes online, I decided to work with Tom Colicchio's recipe from Craft Restaurant for Steamed Lemon Pudding. There were several variations on his recipe available, but I chose to tweak the original. I knew that I wanted a citrus dessert because of the bright flavors to go along with our mostly lovely weather. I had several really beautiful navel oranges in the fridge, so I thought I would combine them with some Grand Marnier and see what happened! I was also cutting back on the sugar, so it was a bit of a risk. As a back up plan, I purchased the lemons…you never know if these experiments will work or not.
I was never a huge fan of orange desserts, but after the last (and my first) Daring Baker's Challenge and the delightful Orange Tian, I figured I would give these oranges another go round! I do enjoy Grand Marnier (at a very hefty price tag these days, I might add!), so I was hoping to make something similar to a Grand Marnier Souffle.
The puddings steam covered for 15 minutes in a hot water bath, so I peeked in and and saw they were beginning to rise at that point (Oh, thank goodness!). I uncovered them and they continued to puff up like a souffle and start to brown nicely. This took another 15 minutes. I was uncertain if the addition of the liqueur would be a problem, but it worked beautifully!
I have to admit that I was thinking that steamed pudding is a really heavy main dish or dessert (and it certainly can be). I always think of Christmas plum pudding and hard sauce when I hear the words "steamed pudding". Thank you Esther for hosting this challenge and making us all think of many other options for creating this dish!
These Grand Marnier Steamed Puddings are best served warm when the top part is almost runny (when it is unmolded). They can be made ahead and then reheated. They are delicious served with just a bit of lightly sweetened whipped cream and some grated orange zest. I also highly recommend a glass of Grand Marnier on the side!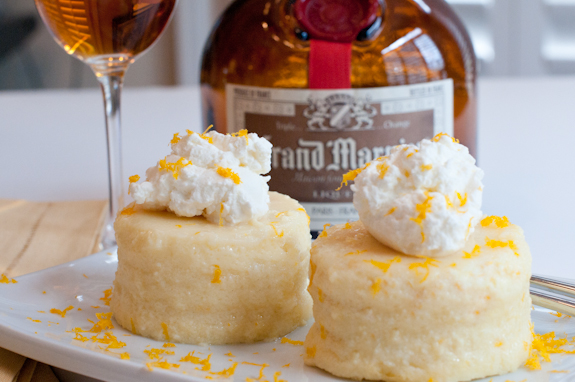 Grand Marnier Steamed Pudding
Ingredients:
1 tablespoon unsalted butter, softened
3/8 cup sugar, plus additional for dusting ramekins
5 tablespoons flour
Finely grated zest of 1 large orange
3 eggs, separated, at room temperature
1 cup buttermilk (1.5% fat)
3 tablespoons Grand Marnier plus fresh squeezed orange juice to equal 1/4 cup liquid
Whipped heavy cream, lightly sweetened
Grated orange zest, for garnish
Directions:
1. Heat oven to 375 degrees. Lightly butter six four-ounce ramekins. Dust each with sugar, shaking out any excess.
2. In small bowl, mix sugar with flour and orange zest. In large bowl, lightly beat egg yolks, and stir in buttermilk and Grand Marnier/orange juice mixture.
3. Whip egg whites until softly peaked. Whisk sugar mixture into buttermilk mixture. Fold in beaten egg whites in thirds. Spoon batter into prepared containers. Place in baking pan, and add hot water to pan to come halfway up sides of ramekins. Cover pan completely with foil.
4. Bake about 15 minutes, until batter begins to puff. Remove foil, and bake another 15 minutes or so, until tops begin to brown and are springy to touch. A little cracking is fine. (Do not overbake. The runny pudding part is yummy!).
5. Remove from oven. Let cool just a few minutes. Remove ramekins to a wire rack. Serve warm. If you make the pudding in advance, allow it to cool to room temperature, and then reheat in a warm water bath when ready to serve. If desired, top with whipped cream and orange zest.
Save
We participate in the Amazon Services LLC Associates Program, an affiliate advertising program designed to provide a means for us to earn fees by linking to Amazon.com and affiliated sites.